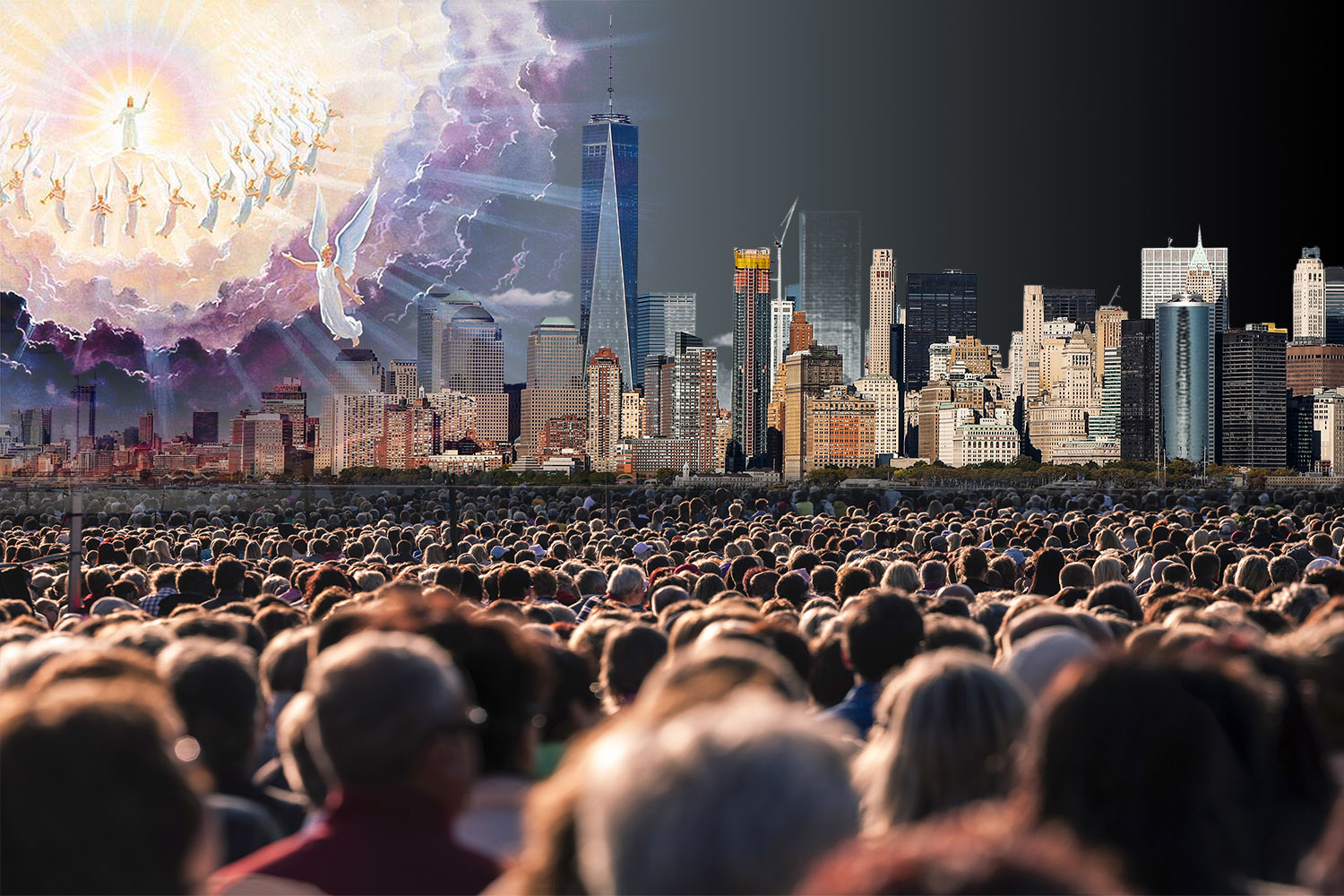 ¿Por qué no ha regresado Jesús?
¿Creciste cantando en la iglesia:¿"¡Siervos de Dios la Trompeta Tocad, Cristo muy Pronto Vendrá!"?
¿Creciste con la expectativa de que el Señor Jesús realmente regresaría pronto?
Al mirar alrededor del mundo y ver el conflicto, los desastres, el crimen, la explotación, el crecimiento de la población, las amenazas climáticas, las enfermedades, ¿te preguntas maravillado y asombrado: "¡¿Qué está esperando Dios? ¿Por qué no ha regresado Cristo?!"
En el siglo primero, los cristianos se preguntaban admirados y deseaban saber por qué Cristo no había regresado. El apóstol Pedro les dijo:
Pero no olviden esto, queridos amigos: para el Señor un día es como mil años, y mil años son como un día. El Señor no tarda en cumplir su promesa, ya que algunos entienden la lentitud. Él es paciente contigo, no quiere que nadie perezca, sino que todos se arrepientan (2 Pedro 3: 8, 9 NIV84).
Dios ha esperado porque quiere que todos los que pueden ser salvos sean salvos, y eso requiere que las personas sepan de Él y se arrepientan. Esto significa que el evangelio debe ir al mundo; como dijo Jesús
Y este evangelio del reino será predicado en todo el mundo como un testimonio para todas las naciones, y luego vendrá el fin (Mateo 24: 14NIV84)
¡Pero han pasado dos mil años! Seguramente el mundo entero ya ha escuchado el evangelio, ¿verdad? ¿realmente lo escuchado?
¿Se ha ido al mundo el evangelio del reino del amor? ¿O se ha engañado al cristianismo para llevar al mundo una mentira, un fraude, un evangelio falso, uno que atrapa al mundo en un sistema que promueve una visión distorsionada de Dios? Y si esto es así, ¿está Dios esperando que la verdad acerca de Él vaya al mundo?
El apóstol Pablo nos advirtió que esto sucedería:
Pero marque esto: habrá tiempos terribles en los últimos días. Las personas serán amantes de sí mismas, amantes del dinero, jactanciosas, orgullosas, abusivas, desobedientes a sus padres, ingratas, impías, sin amor, implacables, difamatorias, sin autocontrol, brutales, no amantes de lo bueno, traicionero, imprudente, engreídos, amantes del placer en lugar de amantes de Dios, teniendo una forma de piedad pero negando su poder (2 Timoteo 3: 1–5 NIV84).
Tan triste como es esto, la Biblia es verdad nuevamente: el cristianismo, como se practica hoy, no es diferente del mundo: las tasas de abuso infantil, las tasas de abuso de cónyuge, el uso de pornografía y las adicciones no son diferentes en los hogares cristianos que en los hogares no cristianos. ¿Por qué? ¡Porque un falso evangelio que no tiene poder para transformar vidas se ha apoderado del cristianismo y evita que las personas experimenten la curación que Dios tiene para ellos!
Por tanto, Jesús espera. Él espera que el verdadero evangelio vaya al mundo y prepare a las personas para encontrarse con Él; solo entonces Él vendrá.
Dios le dijo a su amigo Daniel hace miles de años que esto sucedería. Dios reveló a su profeta exactamente cómo este falso evangelio se arraigaría en el cristianismo: un poder corruptor buscaría cambiar la ley de Dios (Daniel 7:25). Paul amplió la profecía de Daniel, dando más información sobre esta infección maligna:
Con respecto a la venida de nuestro Señor Jesucristo y nuestra reunión con él, les pedimos, hermanos, que no se inquieten o alarmen fácilmente por alguna profecía, informe o carta que supuestamente provenga de nosotros, diciendo que el día del Señor ha Ya ven. No dejes que nadie te engañe de ninguna manera, porque ese día no vendrá hasta que ocurra la rebelión y se revele al hombre de la anarquía, condenado a la destrucción. Se opondrá y se exaltará a sí mismo por todo lo que se llama Dios o se adora, de modo que se instale en el templo de Dios y se proclame Dios (2 Tesalonicenses 2: 1–4 NIV84).
Pablo nos dice aquí que antes de que Cristo regrese, el maligno contraatacará el evangelio de Jesús. Lo hace al establecerse como Dios en el templo de Dios. ¿Pero qué templo? ¿Cabalgó Satanás al cielo y derribó a Jesús de su trono? Por supuesto no. Pablo está hablando del templo del Espíritu, los corazones y las mentes de los creyentes. En otras palabras, ¡la Biblia nos dice que Satanás hará que la gente crea que un ser con sus atributos es Dios! Satanás no consigue que la iglesia rechace la idea de Dios o la creencia en Dios; en cambio, engaña a la iglesia para que crea que Dios es como Satanás en carácter y métodos.
¿Cómo podría Satanás hacer que esto suceda? ¿Cómo podría lograr que la gente rechazara la verdad acerca de Jesús y entronizara al maligno en sus corazones y mentes como el que sería adorado – todo el tiempo cantando canciones de alabanza a Jesús?
Daniel nos dice que es tratando de cambiar la ley de Dios, y Pablo revela cómo lo hace con el nombre que le da a este poder: "El hombre de pecado".
Satanás desplaza a Jesús en nuestros corazones y se erige como el que se adora cuando aceptamos la mentira de que la ley de Dios funciona como la ley humana. Cuando concebimos que la ley de Dios es como las leyes que los humanos hacen, Satanás se entroniza en nuestros corazones y mentes. Por lo tanto, rechazamos la ley de Dios y promovemos una visión sin ley, incluso mientras afirmamos creer en los Diez Mandamientos.
Dios es el Creador de toda realidad: espacio, tiempo, energía, materia y vida. Las leyes de Dios son los protocolos que estableció, incorporados a la realidad, que rigen el funcionamiento de todas las cosas: la ley de la gravedad, las leyes de la física, las leyes de la salud y las leyes morales: la ley del amor, la ley de la libertad, la ley de adoración , etc. La vida está construida para existir solo en armonía con las leyes de Dios, porque son los protocolos para la vida y la salud. La desviación de las leyes de Dios trae dolor, sufrimiento, destrucción y muerte (vea mi blog para más información sobre las Leyes de Diseño de Dios).
Como enseña la Biblia:
La paga del pecado es muerte (Romanos 6:23)
Pecado cuando se ha crecido completamente produce la muerte (Santiago 1:15)
Aquellos que siembran a la naturaleza carnal de esa naturaleza cosechan destrucción (Gálatas 6: 8)
Las leyes de Dios son leyes de diseño. La vida solo opera en armonía con ellos.
Los seres humanos no pueden crear la realidad. No podemos construir espacio, tiempo, energía, materia o vida. Nuestras leyes no son las leyes sobre las cuales existe la realidad. En cambio, inventamos reglas y luego las aplicamos mediante amenazas de castigo.
El cristianismo ha abrazado el sistema del mundo en el sentido de que enseña que la ley de Dios es impuesta, imperial, un sistema de reglas que funciona como la ley humana y requiere que el magistrado gobernante use su poder para castigar a los que rompen las reglas. Esta idea es "sin ley" – es una negación de la realidad. Destrona a Dios de su asiento como Creador y entroniza a una deidad que hace las reglas, funcionalmente no es diferente a cualquier otro ser creado, por lo tanto, entroniza a Satanás en las mentes y los corazones de todos los que aceptan la mentira de que la ley de Dios es como la humana. ley.
La mentira de que las leyes son impuestas da como resultado una cascada de otras mentiras, todas las cuales distorsionan el carácter de Dios y obstruyen su plan de sanar y salvar a su pueblo. Algunas de estas mentiras posteriores son:
Estamos en problemas legales con Dios
Estamos bajo la pena de muerte de Dios
Dios debe usar su poder para matar a los desobedientes
Jesús vino a ser asesinado por Dios para pagar nuestra pena legal
Jesús le ruega a Dios en el cielo, ofreciendo al Padre la sangre de un sacrificio humano para que Dios no nos mate.
Necesitamos estar protegidos del enojo y la ira de Dios.
Jesús nos esconde o nuestro registro de Dios porque si Dios lo viera, nos mataría
Jesús nos esconde a nosotros o nuestro registro al cubrirnos con una túnica de su justicia, o al usar su sangre para borrar los registros de nuestros pecados de los libros de contabilidad legal en el cielo
Debemos hacer ciertos rituales (bautismo, eucaristía, comunión, confesión) para obtener la aplicación legal del pago de sangre de Jesús al tribunal del cielo.
Es correcto y justo que Dios use el poder para torturar y / o matar a las personas que desobedecen
La mentira de que la ley de Dios funciona como la ley humana ha desplazado a Cristo en las mentes de millones de personas y ha entronizado a una deidad que funciona como la malvada. Y están compartiendo esta mentira acerca de Dios donde quiera que vayan.
Dios le dijo a su amigo Juan que en este momento de la historia humana, se proclamaría un mensaje que presenta el evangelio eterno:
Entonces vi a otro ángel volando en el aire, y tenía el evangelio eterno para proclamar a los que viven en la tierra, a cada nación, tribu, idioma y pueblo. Él dijo en voz alta: "Teme a Dios y dale gloria, porque ha llegado la hora de su juicio. Adora al que hizo los cielos, la tierra, el mar y las fuentes de agua "(Apocalipsis 14: 6, 7 NIV84).
¿Y cuáles son las buenas noticias que siempre han sido ciertas, verdaderas en la eternidad pasada y verdaderas en la eternidad futura? ¡Que Dios no es como Satanás lo ha retratado! No es un dictador que inventa leyes que funcionan como nuestras leyes. Él no es la fuente del dolor, el sufrimiento y la muerte. Él no es de quien necesitamos ser protegidos. Y así, el mensaje del tiempo del fin nos llama a hacer un juicio sobre Dios, al igual que Elijah llamó a la gente de su tiempo para hacer un juicio sobre Dios:
¿Cuánto tiempo vacilarás entre dos opiniones? Si el Señor es Dios, síguelo; pero si Baal es Dios, sígalo (1 Reyes 18:21 NIV84).
Es hora de elegir adorar "al que hizo los cielos, la tierra, el mar y las fuentes de agua". ¡Es hora de rechazar los puntos de vista del dictador sobre Dios, rechazar la mentira de que la ley de Dios funciona como la ley humana y aceptar las buenas noticias eternas de que Dios es nuestro Creador, Salvador y Restaurador! Al abrazar la verdad sobre Dios, somos liberados (Juan 8:32), libres de temor, libres de culpa, libres de vergüenza. Es la verdad acerca de Dios que nos hace confiar, y en confianza abrimos el corazón y experimentamos que el Espíritu nos sana, escribiendo en nuestros corazones la ley viva del amor de Dios.
Este es el plan de curación que renovaré con la casa de Israel después de ese tiempo, declara el Señor: los recrearé y limpiaré, y restauraré mi ley de amor en sus mentes, y escribiré mis principios de benevolencia en sus corazones. Seré el Dios que aman, admiran y adoran, y serán personas que revelen mi verdadero carácter (Hebreos 8:10 El Remedio).
Te invito a adorar a nuestro Creador, a rechazar la mentira de que la ley de Dios funciona como la ley humana, y a abrir tu corazón al Espíritu del Señor, pidiéndole a Dios que restaure en ti Su perfecta ley de amor para que puedas glorificar ¡Al revelar su carácter en tu vida!
Solo cuando el pueblo de Dios rechace las mentiras de Satanás, en lugar de abrazar su ley de diseño y proclamar el evangelio eterno sobre el carácter y los métodos de amor de Dios, Jesús vendrá nuevamente.
---
Timothy R. Jennings, M.D (doctor médico), es un psiquiatra certificado, con una maestría en psicofarmacología, orador internacional, miembro distinguido de la Asociación Psiquiátrica de América y de la Asociación Psiquiátrica del Sur (Estados Unidos). Es el presidente y fundador del ministerio "Come and Reason" (Ven y razonemos juntos) y ha servido como presidente de la Asociación Psiquiátrica del Sur y Asociación Psiquiátrica de Tennessee. El Doctor Jennings es el autor de varios libros, incluyendo The God-Shaped Brain (El Cerebro moldeado por Dios), The God-Shaped Heart (El Corazón moldeado por Dios), y The Aging Brain (El Cerebro Envejeciendo).