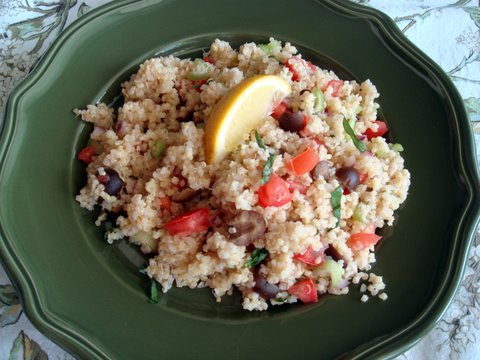 Triple Grain Salad
A refreshing way to add more whole grains to your diet this summer. If you're gluten sensitive, eliminate the bulgur and increase the millet and quinoa by 1/4 cup each.
Equipment:
Medium Sauce Pan
Chopping Board
Large Bowl
Ingredients:
3 cups water
1/2 tsp sea salt
1/4 cup millet
1/2 cup quinoa, rinsed
1/2 cup bulgur
1 cup tomatoes, chopped
1/2 cup celery, chopped
1/3 cup black olives, chopped (my favorite: Lindsay Naturals)
1/4 cup red onion, chopped
3 Tbsp fresh basil, snipped
3 Tbsp fresh lemon juice
1 Tbsp olive oil
Directions:
In a medium saucepan bring water and 1/4 teaspoon of the salt to a boil. Add millet; reduce heat. Simmer, covered for 5 minutes.
Add quinoa and bulgur. Return to boiling; reduce heat. Simmer, covered, for 20 minutes more or until water is absorbed. Remove from heat. Fluff grains with a fork; let stand for 30 minutes. \
Meanwhile, in a large bowl combine tomatoes, celery, olives, red onion, basil, lemon juice, olive oil and the remaining 1/4 teaspoon sea salt. Stir in the grains mixture until just combined.
Serve at room temperature or chilled.