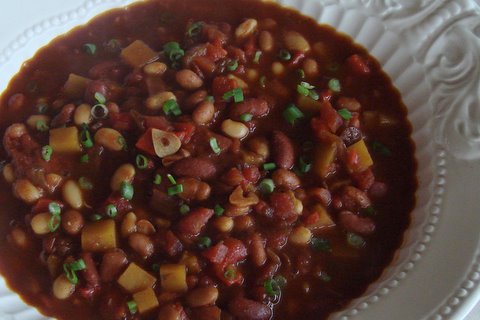 Three Bean Chili
Cumin and paprika add earthy flavor to this marvelous meatless chili. Serve with a hearty salad and corn bread or corn muffins. This is one of my favorite meals!
Equipment:
Chopping Board
Baking Sheet
Large Soup Pot
Ingredients:
2 red bell peppers
3 Tbsp olive oil
1 large onion, chopped
2 tsp ground cumin
1 tsp crushed red pepper (optional)
1 tsp paprika
1/2 tsp salt
4 garlic cloves, thinly sliced
2 cups vegetable broth
1 1/2 cups butternut squash, peeled and 1/2 inch cubed
1 (28-ounce) can no-salt-added chopped tomatoes, undrained
1 (15 ounce) can pinto beans, rinsed and drained
1 (15 ounce) can cannellini beans or great northern beans, rinsed and drained
1 (15 ounce) can red kidney beans, rinsed and drained
1/2 cup green onions, thinly sliced
Directions:
Preheat the broiler. Cut bell peppers in half length-wise. Remove and discard seeds and membranes. Place pepper halves, skin sides up, on a foil-lined baking sheet. Broil 15 minutes or until blackened. Place pepper halves in a zip-top plastic bag; seal. Let stand 15 minutes. Peel and chop peppers. Set aside.
Heat a large soup pan over medium-low heat. Add oil to pan; swirl to coat. Add onion; cook 15 minutes, stirring occasionally.
Stir in cumin, crushed red pepper, paprika, salt and garlic cloves; cook 2 minutes, stirring frequently.
Add bell peppers, broth, squash and tomatoes; bring to a simmer. Cook 20 minutes, stirring occasionally.
Add beans; simmer 25 minutes or until slightly thick, stirring occasionally. Sprinkle with green onions to serve.
from Cooking Light, January/February 2010