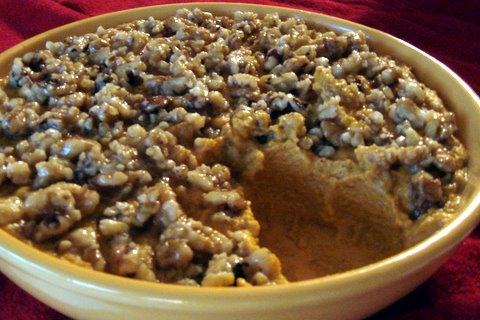 Sweet Potato Casserole
Sweet potatoes are loaded with vitamin A, a great source of manganese, vitamin B-6, potassium, iron and copper. They have more fiber and protein than a white potato and they have a very low glycemic index. Try them in this no-bake version of a traditional holiday favorite. It's sure to make your taste buds sing. Merry Christmas!
Equipment:
vegetable peeler
cutting board
blender or food processor
Ingredients:
4 cups sweet potatoes, peeled and cubed
2 apples, cored and sliced
1 cup walnuts, ground
1/2 cup pecans, chopped
2 oranges, juiced
1/2 cup dates, soaked until softened (about 20 minutes)
1/2 tsp cinnamon
1/2 tsp nutmeg
1/2 tsp sea salt
1/4 cup honey
Directions:
Place the sweet potatoes, apples, 1/2 cup ground walnuts, orange juice, dates, cinnamon and nutmeg in a food processor or blender and puree. Pour into a serving dish.
In a separate bowl, combine the remaining 1/2 cup ground walnuts with the chopped pecans, salt and honey. Scatter over the top of the puree and serve.
from earthmother-intheraw.blogspot.com