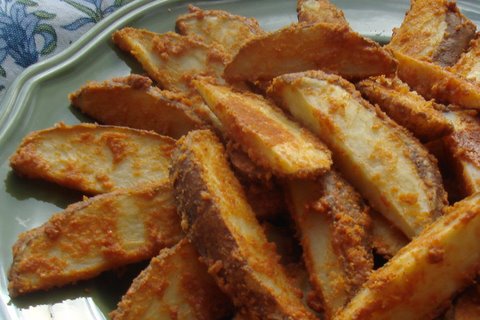 Spicy Home Style Fries
Potatoes are a favorite comfort food. Unfortunately, they're often eaten deep fried or loaded down with unhealthy fats like butter, cheese and sour cream. Try these tasty baked fries and enjoy all of the exceptionally healthful benefits of potatoes without the artery clogging fats.
Equipment:
Cutting Board
Large Mixing Bowl
Cookie Sheet
Ingredients:
5 medium potatoes
4 Tbsp sesame tahini
2 tsp paprika
1 tsp garlic powder
1 tsp onion powder
1-2 tsp salt to taste
dash of cayenne (optional)
Directions:
In a large mixing bowl, stir together tahini, paprika, garlic powder, onion powder, salt and cayenne, until creamy.
Scrub potatoes well with a brush. Leaving the skins on, slice potatoes into home style fry slices.
Add sliced potatoes to the tahini mixture and toss until potatoes are evenly coated.
Spread potatoes onto a cookie sheet, evenly.
Bake at 400 degrees for 35-45 minutes or until potatoes are tender on the inside and crispy brown on the outside. Serve hot out of the oven.