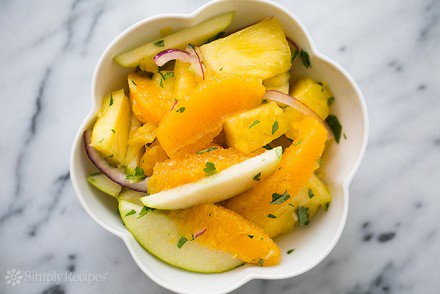 Southwestern Fruit Salad
Jicama (pronounced "hick-a-ma") is a root vegetable that looks similar to a turnip. Jicama is a good source of fiber and its crunchy texture works well in salads.
Equipment:
Large bowl
Knives and cutting board
Wire whisk
Ingredients:
1 teaspoon grated orange rind

1/4 cup orange juice

1 tablespoon brown sugar

3/4 teaspoon ground cinnamon

1/8 teaspoon ground nutmeg

3 cups julienne-cut peeled jicama

1 medium red grapefruit, peeled and sectioned

2 medium oranges, peeled and sliced crosswise

2 kiwi fruit, peeled and sliced
Preparation:
Combine the first 5 ingredients in a medium bowl; stir well with a wire whisk. Add remaining ingredients; toss gently to coat.
submitted by Katherine Figel