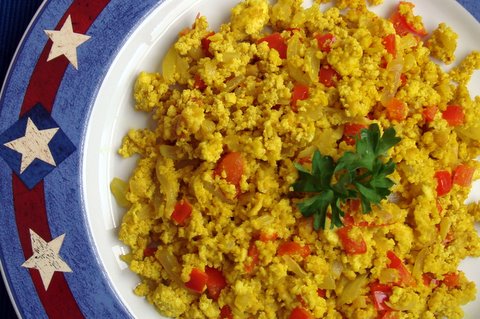 Scrambled Tofu
When I tasted this dish at a brunch last year, I knew I wanted the recipe. I got it, tucked it away and never made it. Recently, Mom mentioned that she was craving eggs. Wanting to satisfy her craving with a plant-based alternative, I made the scrambled tofu. It was even better than I remembered, and Mom loved it!
Equipment:
Large Skillet
Mixing bowl
Ingredients:
2 Tbsp olive oil
3 cloves garlic, finely chopped
1 1/2 cups yellow onion, chopped
3 Tbsp fresh jalapeno pepper, finely chopped (optional)
1 red bell pepper, chopped
1 14-oz. block extra firm, water packed tofu, drained
1/3 cup nutritional yeast
2 Tbsp tahini
1 tsp turmeric
1 tsp sea salt, plus more to taste
1/4 cup plain unsweetened almond milk or soy milk
Directions:
Heat the olive oil in a large skillet over medium-high heat. Add the garlic and onion. Cook, stirring occasionally, until the onion is soft and fragrant, about 4-5 minutes. Add the jalapeno and red bell pepper, and cook for 3-4 minutes more.
Meanwhile, in a medium-sized mixing bowl, crumble the tofu with your hands. Using a wooden spoon, mix in the nutritional yeast and tahini.
Add the mixture to the skillet, stirring well to combine. Sprinkle in the turmeric and salt, mixing to evenly distribute the spices. Add the almond milk or soy milk and cook until the liquid is mostly absorbed. Remove from heat and serve hot.
from Ashley Skabar at about.com "Dairy Free Cooking"