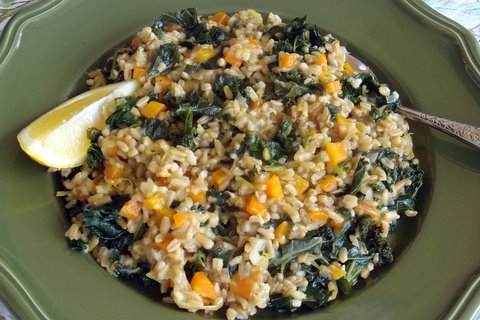 Savory Oat Groats And Kale
Oat groats are the whole kernels of oats. They are sweet with a moist but chewy texture, almost meaty. It may seem different eating oats for lunch or dinner but you're going to love them in this dish! So filling and delicious!
Equipment:
Cutting Board
Medium Saucepan
Medium Skillet
Ingredients:
2 Tbsp olive oil
1 small onion (1/2 cup), finely chopped
1 medium leek, white and pale-green parts only, halved lengthwise, cut into matchsticks and rinsed well
4 garlic cloves, thinly sliced
1 small carrot, cut into 1/4-inch dice
1 cup oat groats
1 cup vegetable stock
1/2 tsp sea salt
6 ounces kale, stemmed and cut crosswise into 1/2-inch-wide strips
dash crushed red-pepper flakes (optional)
Lemon wedges, for serving
Directions:
Heat 1 Tbsp olive oil in a medium saucepan over medium heat until hot but not smoking. Add onion, leek, and half the garlic. Cook, stirring, until onion is translucent, about 5 minutes. Stir in carrot and groats; cook 1 minute. Add stock, 1 cup water, and the salt. Bring to a boil. Reduce heat; simmer, covered, 25 minutes.
Heat remaining Tbsp olive oil in a medium skillet over medium heat until hot but not smoking. Add remaining garlic and kale; cook, stirring, until wilted, about 3 minutes.
Stir kale mixture into groats. Cover; cook until liquid is completely absorbed and groats are tender but still chewy, about 5 minutes. Season with red-pepper flakes. Serve with lemon wedges.
from MarthaStewart.com