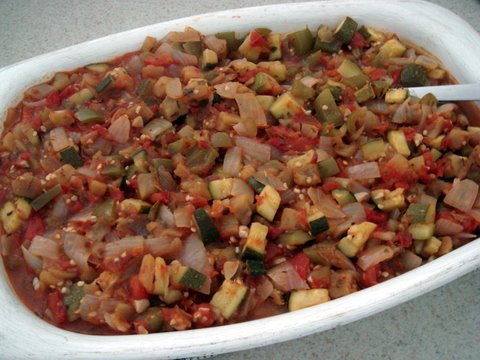 Samfaina
Samfaina (sam-FINE-nah)is a mixture of onions, garlic, eggplant, peppers, tomatoes and zucchini. It makes a filling vegetarian meal all by itself, but the versatile samfaina, can be added to a tortilla, served as a side dish or enjoyed over grilled bread. A delicious, healthy, easy to prepare meal.
Equipment:
Chopping board
Large nonstick skillet
Ingredients:
2 Tbsp olive oil
3 cups onion, coarsely chopped
5 cups eggplant, peeled and (1-inch)cubed (about 1 pound)
2 cups zucchini, (1/2-inch) cubed (about 1/2 pound)
1 cup red bell pepper, chopped
1 1/2 Tbsp garlic, minced (about 7 cloves)
2 1/2 cups tomato, peeled, seeded and chopped (about 1 1/2 pounds)(I didn't peel and seed my tomatoes)
2 Tbsp fresh parsley, chopped
1 tsp fresh thyme, chopped (I used 1/3 tsp dried thyme)
1 tsp sea salt
1 tsp paprika
dash of cayenne (optional)
Directions:
Heat oil in a large nonstick skillet over medium heat. Add onion to pan; cook 10 minutes or until tender, stirring occasionally.
Stir in eggplant, zucchini, bell pepper, and garlic; cook 5 minutes, stirring frequently.
Stir in tomato, parsley, and thyme. Cover, reduce heat, and simmer 5 minutes. Uncover and simmer 10 minutes or until vegetables are tender and liquid evaporates.
Stir in salt, paprika, and cayenne; cook 1 minute.
from "Cooking Light" magazine, May 2008