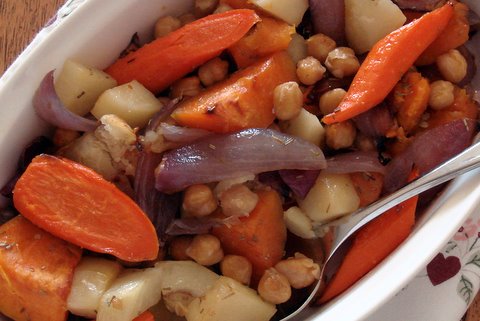 Roasted Vegetables and Chickpeas
Roasting brings out the sweetness and boosts the flavor of hearty veggies in this filling dish.
Equipment:
Chopping Board
Large Roasting Pan
Small Mixing Bowl
Ingredients:
1 pound carrots, peeled and cut into 2-inch pieces
1 pound sweet potatoes, peeled and cut into chunks
1 large red onion, peeled, halved, and cut into 1 inch wedges
1 pound red or russet potatoes, cut into cubes
6 cloves garlic, minced
1 16-ounce can chickpeas (garbanzos), rinsed and drained
3 Tbsp olive oil
1 tsp dried rosemary, crushed
1 tsp packed brown sugar or Sucanat
1/2 tsp sea salt
1/4 tsp crushed red pepper (optional)
Directions:
Move oven rack to center of oven. Preheat oven to 425 F.
Place all vegetables, garlic, and chickpeas in a large shallow roasting pan.
In a small bowl combine oil, rosemary, brown sugar, salt and crushed red pepper. Drizzle over vegetables; toss well to coat.
Roast, uncovered, about 45 minutes or until vegetables are lightly browned and tender, stirring twice.
from Better Homes and Gardens, November 2011