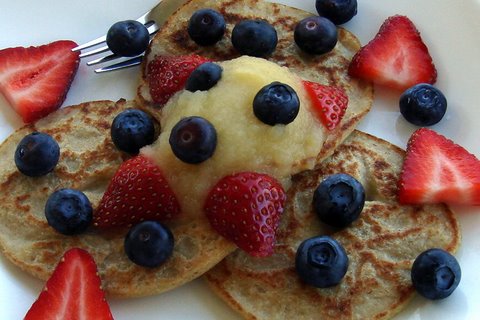 Perfect Pancakes
The vegan pancakes I've tried in the past have been too dense for my taste. Sometimes even rubbery, but these pancakes turn out light and fluffy every time. Serve them with the traditional pure maple syrup or top with raspberry jam and walnuts.
Try applesauce and fresh fruit. I even like to munch on these plain. They are that yummy! Have a Happy and Healthy New Year!
Ingredients:
1 cup flour (I use Bob's Red Mill 100% Stone Ground Whole Wheat Pastry Flour)
1 Tbsp cane sugar
2 tsp aluminum-free baking powder
1/8 tsp salt
1 cup soy milk
1 Tbsp unsweetened apple sauce
Directions:
Set out all your ingredients.
Set a stove element with a pan to medium heat.
Combine the 4 dry ingredients in a bowl.
Combine the soy milk and apple sauce with the flour mixture.
Now the pan should be ready. Oil the pan with cooking spray or Earth Balance – ladle 1/4 cup to 1/3 cup batter per pancake into the oiled pan.
Flip (carefully) when bubbles appear on the surface of the pancake, approximately 3 minutes, flip, and cook the other side for another 2 minutes.
Remove from the pan and place on a plate. Cover with a towel to keep the pancakes warm.
Repeat steps 5 – 7 until the batter is all gone. Enjoy!
(Makes 6-8 pancakes)
Note: These pancakes freeze well. Reheat in a toaster oven.