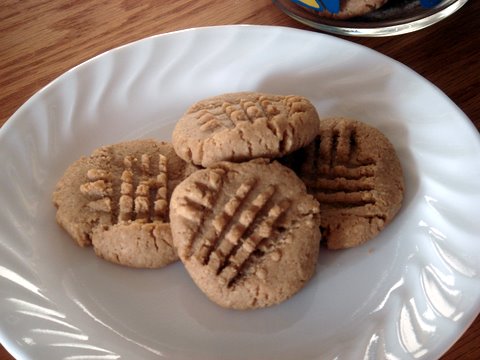 Peanut Butter Cookies
A teenage house guest of ours sampled these and exclaimed, "Mmmm! These taste just like the ones my Grandma used to make!"
Equipment:
Mixing Bowl
Cookie Sheet
Ingredients:
1/2 cup peanut butter
1/3 cup honey
1/4 cup water
1 tsp vanilla
1 Tbsp maple syrup
1 1/4 cups whole-wheat pastry flour
1/2 tsp salt
Directions:
In a mixing bowl, combine all the ingredients by kneading the dough.
Roll into walnut-sized balls and place them on a cookie sheet.
Press them down with a fork, making crisscross marks and bake at 350 F for 10 minutes or until the bottoms of the cookies are light brown.
from "Tasty Vegan Delights" by Gloria Lawson and Debbi Puffer