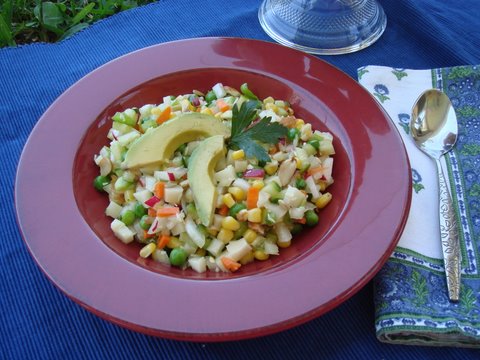 Nutty Salad
This is a beautifully colorful and crunchy salad. It takes a little time to chop all the veggies but the result is well worth the effort. Double the recipe if you plan to bring this to a potluck lunch or picnic. There never seems to be enough! Yum!
Screw Top Jar (to mix the dressing)
Chopping Board
Large Bowl
Ingredients:
Salad:
3 cups raw potatoes, peeled and diced fine
2 ears fresh corn kernels
1 1/2 cups green peas
1 cup carrots, diced or shredded
1 medium onion, chopped
1 small green pepper, chopped
5 radishes, chopped
2 celery stalks, chopped
1/2 cucumber, chopped
1/4 cup nuts of your choice, chopped
1/4 cup sunflower seeds
1/4 cup coconut, grated
2 Tbsp fresh parsley or cilantro, chopped
Sea salt to taste
Dressing:
2 1/2 Tbsp lemon juice
5 1/4 Tbsp olive oil
1 1/4 tsp sea salt
1 tsp brown sugar or Sucanat(dehydrated cane juice)
Directions:
Mix the dressing ingredients in a screw top jar and shake well. Pour the dressing into a large bowl.
Dice potatoes and toss well with the dressing. (This will keep the raw potatoes from turning brown.)
Add the remaining ingredients and toss well.
adapted from "Vegetarian Cooking" by Lalita Ahmed