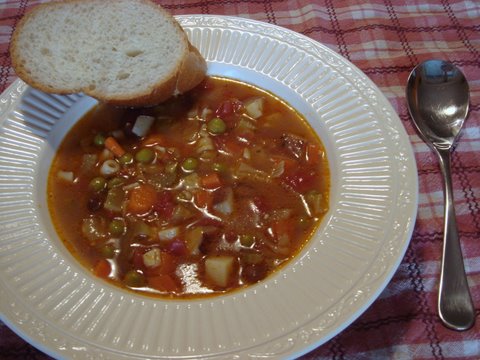 Minestrone Soup
This famous vegetable and pasta soup from Italy can be made in many different ways. I've made this simple but delicious recipe for years. I never get tired of it! Feel free to switch out any of the vegetables for whatever you may have on hand. I love to include zucchini or cabbage or green beans. Just be sure to add more water or stock according to how thick you like your soup. Buon appetito!
Equipment:
Large soup pot
Ingredients:
4 Tbsp olive oil
1 medium onion, chopped
2 cloves garlic, crushed
2 medium potatoes, peeled and diced
3 carrots, peeled and diced
2 stalks celery, chopped
1 ¬Ĺ cups shredded cabbage
4-5 skinned or canned tomatoes, chopped
6-7 cups water or vegetable stock (I usually just use water)
1 ¬Ĺ cups frozen peas
¬Ĺ cup boiled and cooked red kidney beans (or use canned)
1 cup any shaped pasta (small pasta works best)
Sea Salt to taste
nutritional yeast (optional)
Directions:
Heat the olive oil in a large pot and fry the onion and garlic until the onion is soft, 2-3 minutes.
Stir in the potatoes, carrots and celery and fry for 3 minutes.
Add the cabbage and tomatoes. Cook for 5-6 minutes.
Add water or stock. Add peas, kidney beans, pasta and simmer gently, covered, for 10-15 minutes, or until the pasta is just tender. Season with sea salt to taste. After you ladle into a bowl, try adding a sprinkle of nutritional yeast. Yummy!
from "Vegetarian Cooking" by Lalita Ahmed