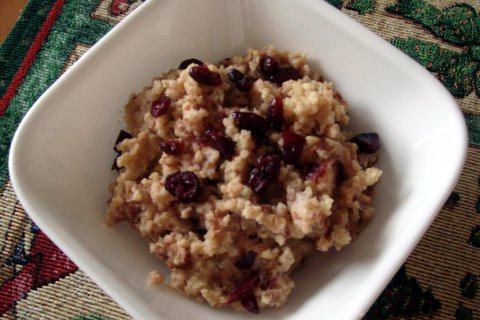 Maple Millet Delight
Millet is delicious in this sweet breakfast treat. Eating a hearty breakfast helps to curb the urge to snack, prevents irritability and fatigue and helps to stabilize blood sugar levels. Don't skip breakfast!
Equipment:
Chopping Board
Blender
Casserole Dish
Ingredients:
1 cup dry millet
1 cup dates, chopped (or less, if you prefer less sweet)
1/2 tsp salt
4 cups boiling water
1 Tbsp maple syrup
1 tsp vanilla
1/3 cup raw almonds
2/3 cup water
Directions:
In a casserole dish, combine the millet, chopped dates, salt, boiling water, maple syrup and vanilla.
In a blender, blend the raw almonds and water until creamy and combine with the other ingredients in the casserole dish.
Cover and bake at 350 degrees F for 1 hour. Stir before serving. Top with fresh or dried fruit if desired.
from "Tasty Vegan Delights" by Gloria Lawson and Debbi Puffer