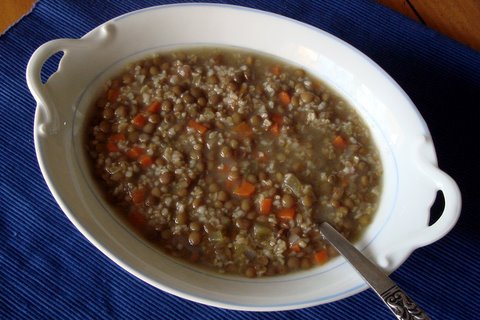 Lentil & Bulgur Soup
Simple yet substantial, this warming soup combines vegetables with whole-grain bulgur and fiber-rich lentils for a hearty main course. Serve with a big salad and toasted pitas. The recipe says it serves 4, but I have to double it to serve 4 in my house!
Equipment:
Chopping Board
Medium Saucepan
Ingredients:
2 Tbsp olive oil
1 medium carrot, finely chopped
1 celery stalk, finely chopped
1 shallot, thinly sliced (I used yellow onion)
6 cups water
1 cup green or brown lentils, rinsed and picked over
1/2 cup bulgur wheat
2 to 3 Tbsp lemon juice (optional)
sea salt to taste
Directions:
Heat oil in a medium saucepan over medium heat. Cook carrot, celery, and shallot until tender, about 6 minutes. Add water and lentils and bring to a boil. Reduce heat and simmer, partially covered, until lentils are tender, about 20 minutes.
Stir in bulgur wheat and cook, partially covered, until bulgur is tender but still slightly chewy, about 5 minutes.
To serve, season with sea salt and drizzle with lemon juice to taste.
from Martha Stewart Living, March 2010