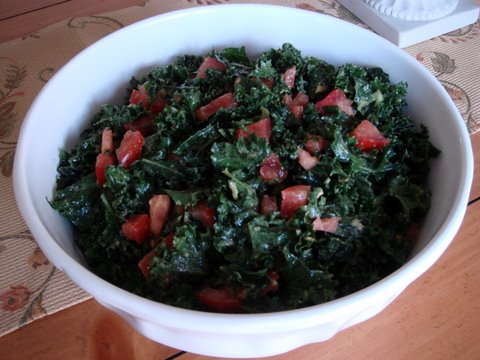 Kale Salad
When I first made this salad, eating raw kale didn't sound very appealing to me. But, Wow! It was so delicious and surprisingly satisfying. I especially love to serve it to those who tell me "I don't like kale!" They love it every time. Even our friend's daughter (8 years old) asks for more and then some more! It's a simple recipe and so much fun to prepare. So, even if you've never liked kale, give this one a try.
Equipment:
chopping board
knife
mixing bowl
Ingredients:
1 head kale, shredded
1 cup tomato, diced
1 cup avocado, chopped
2 1/2 Tbsp olive oil
1 1/2 Tbsp lemon juice
1 tsp sea salt
1/2 tsp cayenne (optional)
Directions:
With both hands in the mixing bowl, toss all the ingredients together, squeezing as you mix to "wilt" the kale and cream the avocado. Serve immediately.
Optional additions: dried fruit, nuts, seeds, red onion, scallions, olives, etc.
from "Living on Live Food" by Alissa Cohen