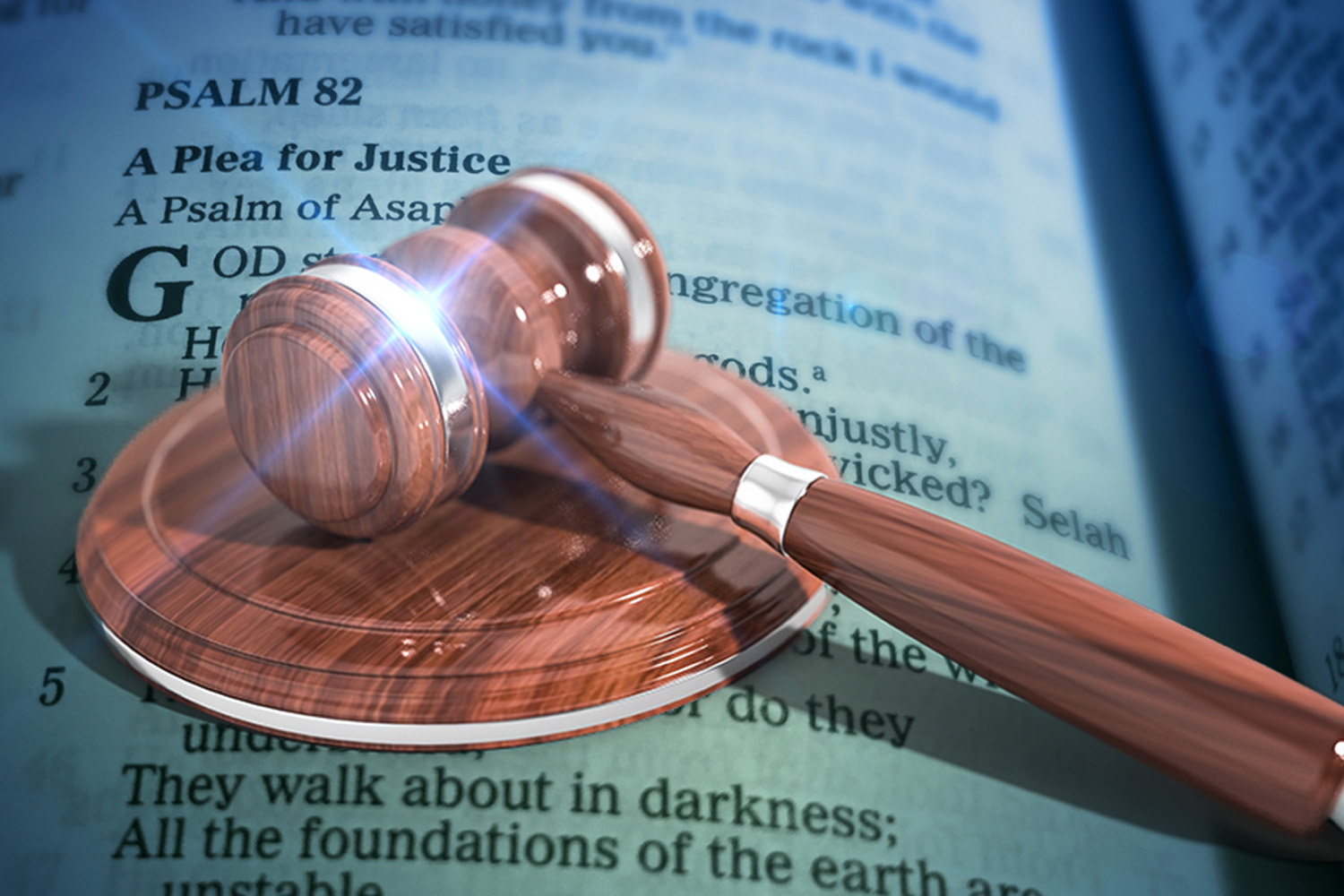 Jezus: uzdrawiająca światłość czy sędzia?
Im bliżej przypatrujemy się Jezusowi, tym lepiej zaczynamy rozumieć realność. Jezus jest światłością świata, która rozjaśnia nasze pojęcie na temat królestwa Bożego i Bożej realności oraz ujawnia fałszywy charakter grzechu i zwyczajów grzesznego świata.
Jezus bezustannie wskazuje na Boga jako Stwórcę, którego prawa (prawda, miłość, wolność) są prawami projektowymi Stworzyciela stanowiącymi podwaliny realności; Jezus raz po raz ujawnia, że królestwo Boże nie jest z tego świata. Boże królestwo nie jest ustanowione na zasadach upadłych ludzkich rządów posługujących się systemem imperialnym, prawnym albo karnym – gdzie rząd musi wszystko nadzorować, wymierzać kary i narzucać przepisy i reguły.
Świat wydaje się być trawiony żądaniem sprawiedliwości społecznej oraz domaganiem się indywidualnych uprawnień i zagarnianiem dla siebie rzekomych powinności – ale osiąga to poprzez narzucanie nowych praw i regulaminów nie na siebie ale na innych. Jezus skupiał się na prawdzie, na realności, na uwolnieniu ludzkości od egoizmu i przywróceniu w nas żywego Bożego prawa miłości, na uzdrawianiu serc i umysłów – a nie na wydawaniu orzeczeń prawnych.
Czytamy w Biblii o człowieku żyjącym dwa tysiące lat temu, który zwrócił się do Jezusa o wydanie prawomocnego orzeczenia – by pomógł mu w dochodzeniu sprawiedliwości. Uważał, że brat go skrzywdził. Historia ta zapisana jest w Ewangelii Łukasza:
"I powiedział mu ktoś z tłumu: Nauczycielu, powiedz memu bratu, aby podzielił się ze mną spadkiem.

Lecz on mu odpowiedział: Człowieku, któż mnie ustanowił sędzią albo rozjemcą między wami? Powiedział też do nich: Uważajcie i strzeżcie się chciwości, gdyż nie od tego, że ktoś ma obfitość dóbr, zależy jego życie.

I opowiedział im przypowieść: Pewnemu bogatemu człowiekowi pole przyniosło obfity plon. I rozważał w sobie: Cóż mam zrobić, skoro nie mam gdzie zgromadzić moich plonów? Powiedział więc: Zrobię tak: zburzę moje spichlerze, a zbuduję większe i zgromadzę tam wszystkie moje plony i moje dobra. I powiem mojej duszy: Duszo, masz wiele dóbr złożonych na wiele lat; odpoczywaj, jedz, pij i wesel się. Ale Bóg mu powiedział: Głupcze, tej nocy zażądają od ciebie twojej duszy, a to, co przygotowałeś, czyje będzie? Tak jest z każdym, kto gromadzi skarby dla siebie, a nie jest bogaty w Bogu." (Ew. Łukasza 13‑21 UBG)
Zastanów się nad tym i zadaj sobie pytanie: Co zostało w tej historii objawione? Na czym skupiał się bogaty człowiek, a na czym skupiał się Jezus?
Jaki rodzaj prawa stosowany jest przy podziale spadku? Dlaczego Jezus nie wydał orzeczenia prawnego – jako sędzia lub urzędnik prawny?
Prawa i przepisy dotyczące podziału majątku są prawami narzuconymi, wymyślonymi, ustanowionymi przez grzesznych ludzi. Prawa Boże nie działają w ten sposób. Szatan kłamie, że królestwo Boże opiera się na takich samych prawach jak królestwa światowe i – niestety – zbyt wielu chrześcijan zgadza się z nim i dlatego wielu szuka prawnego autorytetu / sędziego, który wyda orzeczenie na ich korzyść.
Ale Jezus wyraźnie powiedział, że nie będzie występował jako ich sędzia. Dlaczego? Ponieważ królestwo Boże nie działa na zasadzie wymyślonych przepisów, jakimi kierują się ludzkie rządy.
Jezus nie przyszedł na ziemię po to, by zajmować się kwestiami prawnymi, i wykorzystuje to spotkanie aby ponownie ujawnić różnicę między królestwem Bożym a królestwami tego świata. Człowiek ten liczył na orzeczenie prawne, ale Jezus powiedział mu, że nie to powinno być jego celem; nie było to również celem misji Jezusa.
O co ten człowiek powinien się był zatroszczyć? O zmianę serca! On i jego brat bardziej martwili się o majątek niż o siebie nawzajem. Jezus chciał odnowić miłość w ich sercach – wyprowadzić ich z egoistycznego królestwa świata, które troszczy się jedynie o własne dobro, i wprowadzić ich do królestwa Bożego, które działa na zasadzie dawania. Wytłumaczył jasno, że nie ma znaczenia, ile dóbr ziemskich się nagromadzi, bowiem jeśli serce nie zostanie uzdrowione, wówczas wszystko przepada.
Ludzie w tym grzesznym świecie skupiają się na sobie – swoich prawach, swoich przywilejach, swoim dziedzictwie. Czekają na orzeczenie wydane przez kogoś, kto ma władzę: sędzia prawny, sędzia sportowy, sędzia pokoju, pastor, ksiądz, a może nawet papież. Chcemy, aby ktoś wydał orzeczenie, dał nam odpowiedź, podsunął rozwiązanie, zadecydował na naszą korzyść. Ale Jezus powiedział, że celem Jego przyjścia była zmiana ludzkich serc, a nie stawianie się w roli sędziego:
"A jeśli ktoś słucha moich słów, a nie uwierzy, ja go nie sądzę. Nie przyszedłem bowiem po to, żeby sądzić świat, ale żeby zbawić świat. Kto mną gardzi i nie przyjmuje moich słów, ma kogoś, kto go sądzi: słowo, które ja mówiłem, ono go osądzi w dniu ostatecznym. Bo ja nie mówiłem sam od siebie, ale ten, który mnie posłał, Ojciec, on mi dał nakaz, co mam powiedzieć i co mówić." (Ew. Jana 12: 47‑49 UBG)
Jak najbardziej, sędzia istnieje, ale nie jest nim Jezus. Sędzią jest samo 'Słowo', czyli prawda, którą jest realność. Owce są owcami, a kozy kozami; pszenica jest pszenicą, a chwasty chwastami. Sędzia nie decyduje, kto jest kim ani nie czyni owcy owcą a kozy kozą – prawda objawia, kto jest kim; realność wydaje najbardziej prawdziwy osąd. Ci, którzy odrzucają słowa Jezusa – prawdę – kierują się kłamstwami o Bogu, toteż Mu nie ufają i utwierdzają się w strachu i egoizmie. Umacniają swój skorumpowany charakter, zatwardzają się w grzechu i nienawidzą miłości, prawdy i wolności.
Ci natomiast, którzy kochają prawdę objawioną przez Jezusa, odrzucają kłamstwa szatana i ufają Bogu, otwierają swoje serca i umysły na działanie Ducha Świętego, który zapisuje w nich Boże zasady życia – Jego żywe prawo (Hebrajczyków 8:10). Stają się przemienieni i uzdrowieni.
Wielu ludzi dzisiaj jest zazdrosnych o cudze posiadłości, zazdrosnych o czyjeś osiągnięcia czy stanowisko i dopomina się od władz wprowadzenia prawa zapewniającego im wszystko, co według nich im się należy.
Ale musimy uważać, abyśmy nie stali się tacy, jak ten zazdrosny i samolubny brat. Nie chcemy usłyszeć słów Jezusa skierowanych do nas: "Głupcze!" Nie chcemy dać się oszukać szatanowi, który kusi nas za pomocą strachu i egoizmu, by wymienić bogactwa królestwa Bożego – serca kochające prawdę, szanujące indywidualność i wolność innych, ceniące co Bóg ceni – na bezwartościowe błyskotki tego świata.
Jezus bezustannie objawia piękną prawdę o Bożym królestwie miłości! Patrz więc na Jezusa i ucz się od Niego. Ujrzyj Go jako Stwórcę, jako Tego, kto doskonale przedstawia Boga i Jego królestwo. Staraj się zrozumieć i zaakceptować Boże prawa stworzenia. Niech Bóg stanie się Twoim największym pragnieniem, a rzeczy tego świata stracą nad Tobą władzę i odnajdziesz prawdziwy pokój bez względu na to, co świat Ci rzuci pod nogi.
---
Dr Timothy R. Jennings jest lekarzem psychiatrą, psychofarmakologiem, międzynarodowym mówcą, członkiem specjalnym American Psychiatric Association i członkiem Southern Psychiatric Association. Jest prezesem i założycielem Come and Reason Ministries, a także prezesem Southern and Tennessee Psychiatric Associations. Dr Jennings jest autorem wielu książek, w tym: "The God-Shaped Brain", "The God-Shaped Heart", "The Aging Brain", i "Czy to naprawdę może być tak proste?".