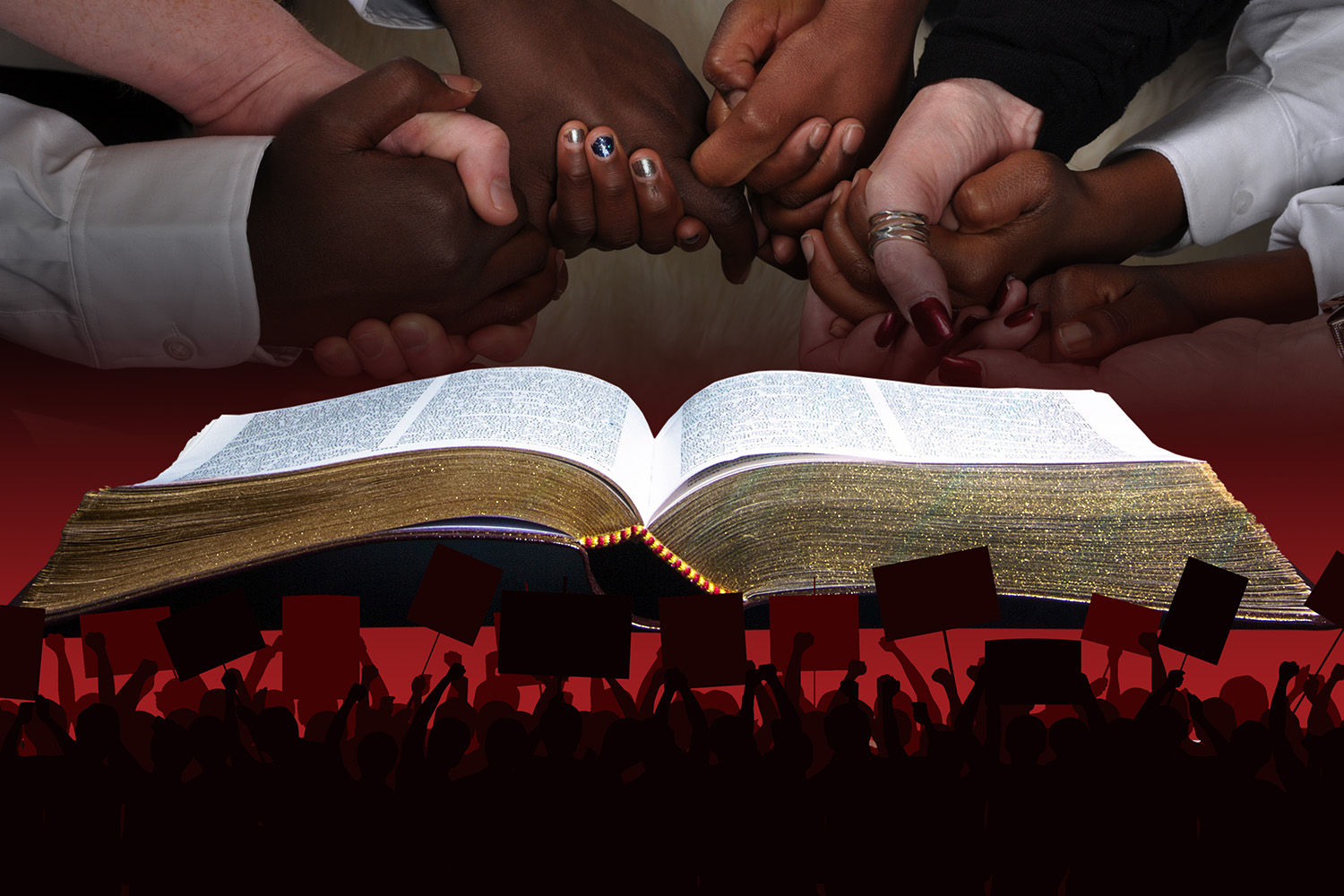 La Insidiosidad del pecado – y el remedio de Dios
El pecado es la transgresión de la ley – la violación de la ley del amor- el protocolo sobre el cual el Creador construyó la realidad para funcionar. Romper el amor también viola la confianza (fé) con Dios; así que cualquier cosa hecha sin fé (confianza) en Dios es también pecado (Romanos 14:23).
Pecado es el estar fuera de armonía con Dios. Por Adam, todos los humanos han nacido con esta condición. La pecaminosidad está caracterizada por el miedo y el egoísmo; estos son los primeros impulsos de la naturaleza carnal. El temor y el egoísmo conducen a los actos de pecado, los cuales son la violación al diseño de la leyes de Dios para la vida, las leyes de amor, verdad, y libertad.
La tentación a pecar puede venir desde afuera de nosotros – por ejemplo, mentiras que se nos dijeron, como a Eva en el Edén. La tentación también puede venir de adentro de nosotros (la naturaleza caída) – de los sentimientos de temor y el egoísmo, y también de los subsecuentes hábitos del pecado que hemos desarrollado al elegir el temor y el egoísmo a través de la vida. (Santiago 1:13-15)
Ser tentado de afuera de uno mismo no es injurioso para el que está siendo tentado, tampoco es una evidencia de pecaminosidad. Todo depende de la elección que uno haga cuando es tentado. Adán y Eva fueron tentados cuando eran sin pecados – la tentación como tal no los corrompió, pero su elección de creer en la mentira, romper la confianza en Dios, y actuar en interés propio lo hizo.
Ser tentado desde adentro de uno mismo, de los sentimientos de temor y egoísmo, no es un acto de pecado, tampoco evidencia de un carácter corrupto. Jesús fue tentado en todas las maneras como nosotros, incluyendo las poderosas emociones humanas, como vemos en su experiencia en el Getsemaní, sin embargo Jesús no tuvo pecado.
Ser tentado desde adentro es evidencia de la condición de pecado con la que nacimos; no se le hace daño al alma por mera tentación. Pero el daño ocurre cuando uno decide decir sí a la tentación – cuando el corazón se identifica con ella, la anhela y persigue el pecado en la mente, en la imaginación, aún si no se lleva a cabo en la aplicación. Acciones como éstas corrompen el carácter y pueden ocultarse de otras personas. Más la actual condición del corazón no es oculta a Dios. Nosotros, o somos renovados de corazón – teniendo la ley de amor, verdad, y libertad escrita en nosotros por el espíritu santo a través de nuestra confianza en Dios y eligiendo sus métodos (Hebreos 8:10) – o estamos solidificados en el temor y el egoísmo.
Cuando alguien decide pecar externamente – roba, asalta, molesta, explota, engaña, traiciona, arruina la reputación de otro con mentiras, malversaciones – este persona no solo daña su propia alma, cauteriza su conciencia, corrompe su carácter, endurece su corazón, y deforma su propio razonamiento, pero también planta una semilla de pecado en el corazón de la victima que, si no es removida, crecerá raíz y se regará el pecado en el corazón de la víctima asfixiando los frutos de justicia y trayendo más corrupción de temor y egoísmo.
La siguiente historia es de mi libro The God-Shaped Brain: Como cambiando el concepto de Dios tu vida será transformada:
María no fue mi paciente sino un miembro de mi iglesia. Cuando ella se me acercó un día después del servicio, pude ver angustia en sus ojos. Era obvio que ella estaba luchando con algo; pude ver que estaba en confusión. Ella hablaba con un acento fuerte y sus palabras eran dudosas e inciertas. Obviamente estaba asustada, y yo no podía saber que la asustaba más – que yo no respondiera su pregunta o que la respuesta que le diera le causara más preocupación.

Ella me dijo que su única hija, Silvia, tenia veinticinco años y que reciéntemente se había casado con un hombre jóven llamado Hector. Ella tenía algunas dudas sobre Hector antes del matrimonio pero nunca las mencionó, decidiendo que si ese era el hombre con que su hija se iba a casar, ella los apoyaria. El matrimonio fue hace ocho meses y, bajo las circuntancias que ella ha llegado a conocer, María ya no apoya esa unión.

Fue solo dos semanas después de que llegaron de la luna de miel que Hector golpeó a Silvia por primera vez. Inicialmente Silvia cubrió los moretones y se quedó con el dolor para ella misma. Hacía excusas en su mente: Él no quiso hacerlo, estaba cansado, lo hice enojar. Yo se que él me ama. Pero a través del paso de las semanas los golpes se volvieron más frecuentes y severos, la jóven novia no podía esconder la verdad y ya, hacía dos meses, su madre se había enterado. Desde entonces, Silvia había venido a casa tatuada de lesiones casi que cada semana.

Es de entender que María estaba airada. Ella confrontó a Hector, quien respondió con una fría indiferencia, mirando a María con un placer sádico en sus ojos. Lo más que ella rogó por su hija y lo más que su angustia aumentaba por el maltrato hacia ella, lo más que Hector parecía disfrutarlo. María lo odiaba, lo detestaba, y la rabia dentro de ella estaba creciendo a una fuerza volcánica.

María había perdido su paz. Ella pensaba constantemente en su hija y en los abusos de Hector. Aconsejó a su hija de dejarlo, pero Silvia le recordaba de la santidad del matrimonio y su compromiso de quedarse. Silvia continuó haciendo excusas por el comportamiento de Hector y sometiéndose a sus abusos sin fin. La rabia de María se acumuló. Ella se desvelaba y daba vueltas en la noche, sin poder sacar de su mente las imágenes abolladas de Silvia – o zafarse de los sueños que tenía de la paliza que le gustaría darle a su yerno.

El pecado es insidioso escasamente nos damos cuenta cuando comienza a crecer en nuestros corazones. Como un virus mortal que infecta primero a una persona, luego a otra, pasamos el pecado a otros sin importarnos – infectando con un comentario cortante, una risa cruel, un punto de represalia, o un hombro frío. Cada lesión apreciada, cada insulto retenido, cada herida no sanada mantiene un bolsillo supurante para las semillas del diablo, germinando con más lesiones, regando más dolor y sufrimiento. El corazón de María estaba infectado y ella escasamente la sabía. (páginas 183-185)
Una de las estrategias maestras de Satanás es hacer que la gente malvada que rechaza a Dios – que rechaza la salvación, que rechaza el amor, la verdad y la libertad – peque en orden de dañar, lesionar y hacerle mal a otros. No solo hace esto incrementar su propia culpa y vergüenza, que ellos niegan y por lo tanto marchitan su propia conciencia y solidifican el mal más allá en sus caracteres, pero el pecado también afecta los justos con frutos de anti-amor anti-verdad, anti-libertad. Satanás usa estas semillas de pecado para tentar a gente justa a buscar erradicar el pecado o el mal a través de los métodos del demonio, de este modo corrompen las víctimas a través de las prácticas de los métodos de Satanás. Satanás es tan bueno en esto que la gente que se compromete en la búsqueda de erradicar el mal practicando los métodos anti-God realmente se sienten bien sobre lo que están haciendo.
Contraste los dos métodos:
Un hombre inocente es abaleado y muere a manos de la autoridad, y la respuesta de la comunidad es de alborotarse y destruir propiedades de otra gente inocente y algunas veces herir otros inocentes -lo cual conlleva a círculos más largos de odio, resentimiento, represalias y violencia en la comunidad. Ésta es la mentalidad del ojo por ojo que eventualmente dejará ciego al mundo entero.
Un pistolero racista va a una iglesia en el Sur de Carolina y hace un tiroteo, pero los miembros de la iglesia perdonan al hombre e invitan a la comunidad a perdonarlo. O un hombre armado agarra unas niñas de un colegio de los Amish como rehenes, matando a cinco de ellas, pero la comunidad Amish perdona al hombre y aún ayuda a la familia del asesino. Los dos ejemplos desencalan la violencia y trae sanación al alma.
Satanás se goza en instigar el mal y después incita indignación en el ofendido, fomentando el ataque al mal, usando sus métodos. No perdonamos, no amamos, no buscamos redimir al ofensor – no seguimos las palabras de Jesús de amar a nuestros enemigos y orar por los que rencorosamente nos abusan. Satanás engaña a gente buena para que busque castigar, destruir, dominar, controlar, y a la fuerza erradicar malhechores y llamarlo "Justicia"- y el círculo de violencia se perpetúa y se extiende, y el pecado toma en control más y más corazones.
Algunos no dudan en protestar y argumentar por la necesidad de Policía, "guerra Justa,"
y justicia judicial. Para aquellos que están estancados en el punto de vista de la ley impuesta del mundo, parece ser correcto. Pero la biblia dice, " Hay caminos que al hombre parecen derechos, pero su fin es camino de muerte" (Proverbios 14:12). El camino del mundo es el camino de Satanás; no puede sanar corazones, y solo extiende la enfermedad del pecado.
Necesitamos parar de mirar al pecado, parar de enfocarnos en la injusticia, parar de rumiar sobre nuestra indignación, y fijar nuestros ojos en Cristo. Porque somos trasformados contemplando, ésta es la ley natural de la adoración: Nos convertimos en lo que gastamos tiempo admirando, contemplando y meditando. Cuando gastamos nuestro tiempo mirando las noticias en círculo – la perpetua pelea de la injusticia social, decepción, explotación, y lo incorrecto – esto incita más miedo, más indignación, y más justificación de usar los métodos del mal y parar el mal. Este espiral que nos lleva hacia abajo en una profundidad creciente de temor y egoísmo.
Pero tenemos un mensaje que quiebra ese círculo de pecado, de violencia, y de corrupción; tenemos un mensaje que libera el corazón del miedo y el egoísmo – y ese mensaje es Jesús, nuestro Creador Dios cuyas leyes son leyes naturales, el principio del amor construido en la realidad.
Cuando ha habido maltrato (y todos hemos sido maltratados), cuando nos ofendieron (y todos hemos sidos ofendidos), cuando estamos heridos por el mal (y todos hemos estado heridos), aléjate del mal y fija tus ojos en Cristo. Gasta una hora contemplandole cada mañana meditando en la vida de Jesús. Haz de Él el deseo de tu corazón. Admíralo, regocíjate en su amor, disfruta en su verdad, sumérgete en su presencia, renuévate en su carácter, bebe profundamente de las aguas de curación de las verdades y amor celestiales, y permítele a Dios que con su remedio lave tus pecados, sane tus heridas, y te limpie de todo temor, culpa, vergüenza, ira, amargura, y egoísmo. Y después ve al mundo corrupto y "ama a tus enemigos, haz bien a aquellos que te odian, bendice a aquellos que te maldicen, ora por aquellos que te maltratan" (Lucas 6:27,28)
Sí, el pecado es insidioso pero donde abunda el pecado, la gracia de Dios y su remedio renovador abunda todavía más!
---
Timothy R. Jennings, M.D (doctor médico), es un psiquiatra certificado, con una maestría en psicofarmacología, orador internacional, miembro distinguido de la Asociación Psiquiátrica de América y de la Asociación Psiquiátrica del Sur (Estados Unidos). Es el presidente y fundador del ministerio "Come and Reason" (Ven y razonemos juntos) y ha servido como presidente de la Asociación Psiquiátrica del Sur y Asociación Psiquiátrica de Tennessee. El Doctor Jennings es el autor de varios libros, incluyendo The God-Shaped Brain (El Cerebro moldeado por Dios), The God-Shaped Heart (El Corazón moldeado por Dios), y The Aging Brain (El Cerebro Envejeciendo).