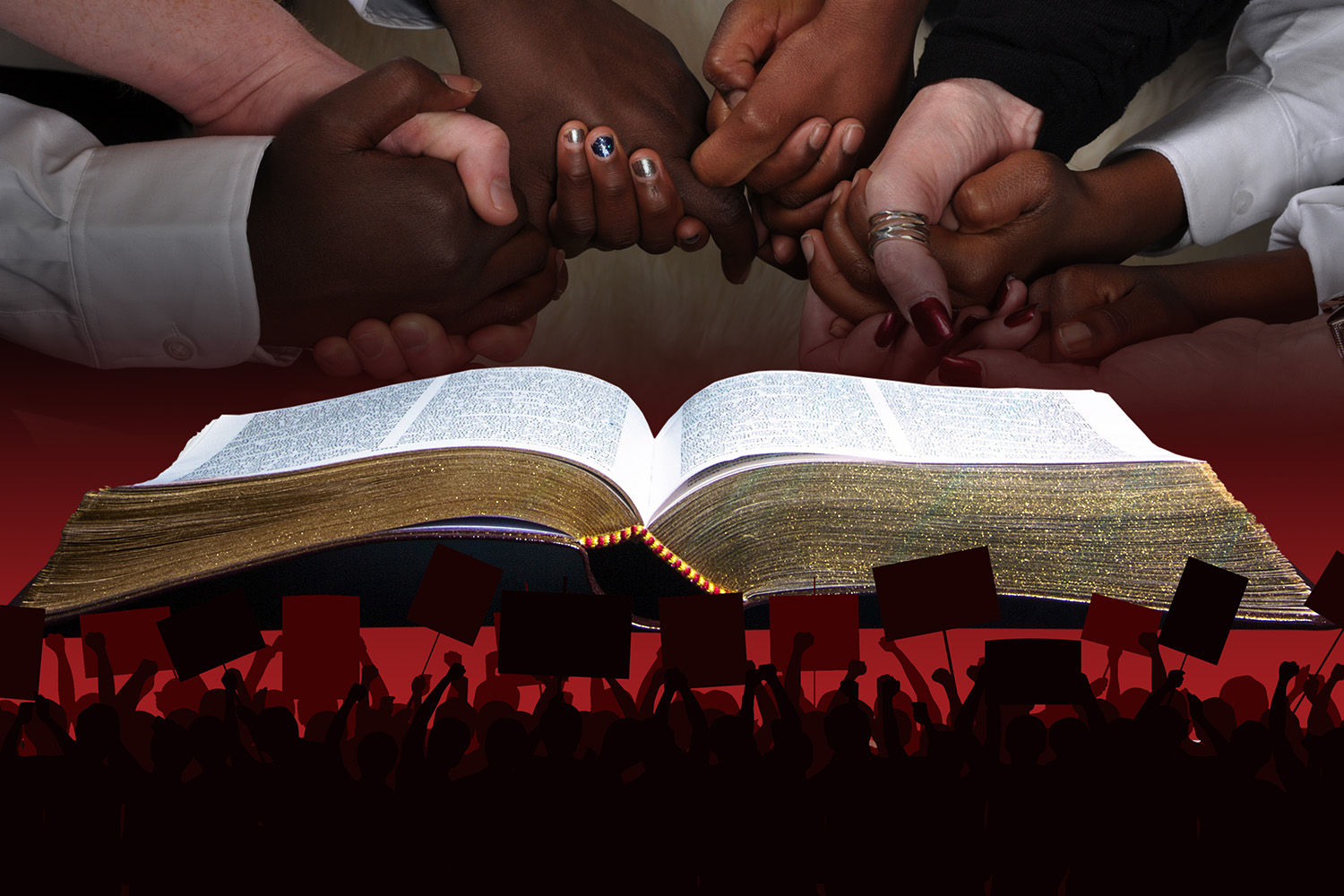 Podstępność grzechu a Boże Remedium
Grzech jest naruszeniem prawa – pogwałceniem prawa miłości, czyli protokołów, na których Stwórca zbudował realność. Przekraczanie praw miłości narusza także zaufanie (wiarę) do Boga; toteż "wszystko … co nie jest z wiary (zaufania), jest grzechem." (UBG, Rz 14:23).
Grzeszność to brak harmonii z Bogiem. Z powodu upadku Adama wszyscy ludzie rodzą się w tym stanie. Grzeszność charakteryzuje się strachem i samolubstwem, a są to główne odruchy cielesnej natury. Strach i samolubstwo prowadzą do popełniania grzechów, które są z kolei pogwałceniem Bożych praw życia – praw miłości, prawdy i wolności.
Pokusa grzechu może być zewnętrzna – np. może przyjść w postaci kłamstw, takich jak kłamstwo powiedziane Ewie w Edenie. Pokusa może również być wewnętrzna (pochodząca z naszej upadłej natury) – np. powodowana uczuciami strachu i egoizmu, albo wywodzić się z nawyków i pożądliwości, które ukształtowały się w nas poprzez ciągły wybór strachu i samolubstwa w życiu. (Jk 1:13-15).
Zewnętrzne pokusy nie wyrządzają szkody osobie kuszonej ani nie są dowodem naszej nieprawości. Wszystko zależy od wyboru, jakiego dokonuje osoba kuszona. Adam i Ewa byli kuszeni, gdy byli jeszcze bezgrzeszni, i sama pokusa ich nie pokalała. Pokalał ich natomiast świadomy wybór/decyzja, by uwierzyć kłamstwu, przestać ufać Bogu i działać w interesie własnym.
Wewnętrzna pokusa, z poczucia strachu i samolubstwa, nie jest aktem grzechu ani dowodem nieprawego charakteru. Jezus był kuszony pod każdym względem, tak jak my, zmagając się z potężnymi ludzkimi emocjami – jak to widzimy w Jego doświadczeniu w Getsemani – jednak pozostał bezgrzeszny.
Kuszenie od wewnątrz jest dowodem grzesznego stanu, w jakim się urodziliśmy i jako takie nie wyrządza duszy najmniejszej szkody. Szkodę ponosimy wówczas, gdy poddajemy się pokusie – kiedy w sercu utożsamiamy się z grzechem, tęsknimy za nim i rozkoszujemy się nim w wyobraźni, nawet jeśli nigdy nie popełniamy go w rzeczywistości. Takie wybory dokonywane w sercu psują charakter, ale mogą pozostać ukryte przed ludźmi. Jednak prawdziwego stanu serca nie da się ukryć przed Bogiem. Możemy dostąpić uzdrowienia serca poprzez zapisane w nim przez Ducha Świętego prawo miłości, prawdy i wolności, przez ufność Bogu i wybór Jego metod (Heb 8:10) – albo możemy umocnić się w strachu i egoizmie.
Kiedy ktoś decyduje się grzeszyć otwarcie – kraść, znieważać, molestować i wykorzystywać innych, oszukiwać, zdradzać, obgadywać, plotkować, malwersować – nie tylko rani własną duszę, psuje swój charakter, zatwardza swoje serce, wypacza rozsądek i plami sumienie, ale także zasiewa ziarno grzechu w sercu ofiary. Jeśli owe nasiona nie zostaną usunięte, zakorzenią się i rozwiną grzech w sercu ofiary, zagłuszając owoce prawości oraz powodując dalsze rozprzestrzenianie się strachu i egoizmu.
Poniższa historia pochodzi z mojej książki The God‑Shaped Brain: How Changing Your View of God Transforms Your Life, (str.183-185).
Chociaż Maria nie była moją pacjentką, to będąc członkiem mojego kościoła, podeszła do mnie pewnego razu po nabożeństwie. W jej oczach widziałem wewnętrzny ból. Było to oczywiste, że się z czymś zmagała, że była w rozterce. Mówiła z dość mocnym obcojęzycznym akcentem, a słowa jej były niepewne, niezdecydowane. Wyraźnie się czegoś obawiała, ale nie mogłem wydedukować, co ją bardziej trwożyło: że nie udzielę jej odpowiedzi, czy że moja odpowiedź przysporzy jej jeszcze więcej zmartwień.

Powiedziała mi, że jej jedyna, 25-letnia córka, Sylwia, niedawno poślubiła młodego człowieka o imieniu Hektor. Maria miała obawy co do Hektora jeszcze przed ślubem, ale nigdy ich nie wyraziła. Zdecydowała, że skoro jest to człowiek, którego jej córka miała poślubić, zrobi wszystko aby ich wspierać. Pobrali się osiem miesięcy temu, lecz w obecnej sytuacji, o której się dowiedziała, nie była w stanie ich dłużej wspomagać.

Zaledwie dwa tygodnie po powrocie z podróży poślubnej Hektor uderzył Sylwię po raz pierwszy. Początkowo Sylwia zakrywała siniaki i nie przyznawała się do bólu, usprawiedliwiając go w myślach: Nie chciał tego zrobić. Był zmęczony; może go czymś zdenerwowałam? Wiem, że mnie kocha. Jednak w miarę upływu czasu, bicie zdarzało się coraz częściej i było bardziej dotkliwe, więc młoda żona nie mogła już dłużej ukrywać prawdy. Kilka miesięcy temu dowiedziała się o tym jej mama. Od tamtej pory Sylwia przychodziła do rodziców prawie co tydzień, "wytatuowana" nowymi siniakami.

Co jest jak najbardziej zrozumiałe, Maria była niezwykle tym oburzona. Doprowadziła do konfrontacji z Hektorem, który okazał zimną obojętność, patrząc na Marię z sadystycznym zadowoleniem w oczach. Im bardziej błagała go w obronie córki, im większy okazywała niepokój o Sylwię, tym więcej sprawiało mu to przyjemności. Nienawidziła go i gardziła nim, a wzbierająca się wewnątrz niej wściekłość wzrastała do rozmiarów gotowego do wybuchu wulkanu.

Maria straciła pokój w sercu. Stale myślała o swojej córce i o tym, jak Hektor znęcał się nad nią. Poradziła Sylwii, aby opuściła męża, ale Sylwia przypomniała jej o świętości związku małżeńskiego i jej zobowiązaniu do pozostania przy mężu. Sylwia nadal usprawiedliwiała Hektora i poddawała się jego ciągłemu maltretowaniu. Gniew Marii natężał się coraz bardziej. W nocy przewracała się z boku na bok, nie mogąc zapomnieć widoku posiniaczonej córki i nie mogąc opędzić się od ochoty przetrzepania skóry zięciowi.

Grzech jest niesamowicie podstępny, toteż ledwo zauważamy, kiedy rodzi się w naszych sercach. Podobnie jak śmiertelny wirus najpierw zaraża jedną osobę, a potem następną, tak i my przekazujemy grzech innym zupełnie beztrosko – infekując ich ostrym komentarzem, okrutnym śmiechem, odwetowym uderzeniem lub chłodnym traktowaniem. Każdy pielęgnowany uraz, każda nieuleczona rana pozostaje w nas jak jątrzącą się torbiel pełna zarodków grzechu wypuszczających kiełki kolejnych obrażeń rozprowadzających jeszcze więcej bólu i cierpienia. Serce Marii zostało zainfekowane w ten właśnie sposób, a ona nie była nawet tego świadoma.
Jedną z głównych strategii Szatana jest doprowadzenie do tego, aby źli i grzeszni ludzie – którzy odrzucają Boga, a tym samym odrzucają zbawienie, miłość, prawdę i wolność – prowadzili grzeszne życie, gnębiąc, raniąc i wyrządzając krzywdę innym. Spowoduje to, że będzie ich wówczas nękać poczucie winy i wstyd, oraz że będą zaprzeczać faktom, co spowoduje w nich znieczulicę sumienia i umocni wypaczone charaktery. Ich grzech zarazi także prawych ludzi ziarnem anty-miłości, anty-prawdy i anty-wolności. Szatan używa tych ziaren grzechu jako przynęty, by kusić prawych ludzi do usiłowania wykorzenienia grzechu i zła przy użyciu jego własnych metod, co pogrąży jego ofiary w jeszcze głębszym zwiedzeniu, gdy praktykować zaczną jego sposoby. Szatan jest w tym tak dobrze wyspecjalizowany, że ludzie, którzy usiłują wykorzenić zło przy użyciu anty-Bożych metod, czują się usatysfakcjonowani ze swoich osiągnięć.
Porównaj następujące metody:
Niewinny człowiek zostaje zastrzelony na śmierć przez władze, a społeczność reaguje na to rozruchami na ulicach i niszczeniem mienia niewinnych ludzi, a niekiedy nawet ranieniem innych niewinnych, co prowadzi do dalszych aktów nienawiści, buntu, odwetu i przemocy w społeczności. Jest to mentalność typu 'oko za oko', gdzie cały świat wkrótce będzie ślepy.
Rasista wpada do kościoła w stanie Południowa Karolina i zabija kilka osób, ale członkowie kościoła wybaczają mu, jak również wzywają społeczność do przebaczenia.
Szaleniec robi zakładników z dziewcząt w szkole Amiszów, mordując pięć z nich, a społeczność Amiszów wybacza mu, a nawet udziela pomocy rodzinie mordercy.
W obu przykładach dobroć odnosi zwycięstwo nad złem i przemocą, a serca doznają uzdrowienia.
Szatan rozkoszuje się podżeganiem zła, a następnie wzbudzaniem oburzenia w osobie obrażonej, nakłaniając ją do zwalczania zła za pomocą szatańskich metod. Słuchając go, nie wybaczamy, nie kochamy, nie staramy się wybawić przestępcy z grzeszności – nie podążamy za słowami Jezusa, aby kochać wrogów i modlić się za tych, którzy złośliwie nas wykorzystują. Szatan zwodzi dobrych ludzi i namawia ich do szukania odwetu w postaci nakładania kar, niszczenia, dominowania, kontrolowania i eliminowywania złoczyńców, a zarazem nazywania tego "sprawiedliwością". W rezultacie tworzy się błędne koło przemocy, która jest wzmacniana, utrwalana i propagowana, a grzech zyskuje coraz więcej zwolenników.
Niektórzy bez wątpienia będą protestować i wysuwać argumenty w obronie policji, "świętych/ uzasadnionych wojen" i wymierzania kar przez sądy. Dla tych, którzy utknęli w świecie narzuconego prawa, wydaje się to absolutnie słuszne. Biblia jednak mówi: "Jest droga, która człowiekowi wydaje się słuszna, lecz końcem jej jest droga do śmierci." (UBG, Prz 14:12). Droga świata jest drogą szatana: nie może uzdrowić serca, natomiast nadzwyczaj szerzy chorobę grzechu.
Musimy przestać obserwować grzech, przestać skupiać się na niesprawiedliwości, przestać pogłębiać swoje oburzenie a utkwić wzrok w Chrystusie. Patrząc na chwałę Pana, jakby w zwierciadle, zostajemy przemienieni w ten sam obraz (zob. 2Kor 3:18), albo jak mówi przysłowie: "kto z kim przestaje, takim się staje." Jest to jedna z zasad prawa Stwórcy: upodabniamy się do tego, co oglądamy, obserwujemy i o czym rozmyślamy. Ciągle śledząc wiadomości – nieustannie nadające o niesprawiedliwości społecznej, oszustwach, wyzysku i podłości – stajemy się bardziej pobudliwi, zastraszeni, oburzeni i bardziej podatni, by posługiwać się metodami szatana, by powstrzymać jego śmiercionośne dzieło. Staczamy się po równi pochyłej w głębię otchłani strachu i egoizmu.
Dzięki Bogu, mamy przesłanie, które przerywa cykl grzechu, cykl przemocy i cykl korupcji; mamy przesłanie, które uwalnia serce od strachu i samolubstwa – a tym przesłaniem jest Jezus, nasz Bóg i Stwórca. Jego prawa są prawami projektowymi Kreatora – zasadami miłości wbudowanymi w rzeczywistość.
Gdy dzieje się nam krzywda (a wszyscy jej doznaliśmy), gdy jesteśmy oburzeni (a wszystkim się to zdarza), zranieni przez zło (wszyscy tego posmakowaliśmy), odwróćmy się od zła i skierujmy oczy na Chrystusa. Każdego dnia spędźmy godzinę w rozmyślaniu o życiu Jezusa. Uczyńmy Go pragnieniem swojego serca. Wielbijmy Go, radujmy się Jego miłością, rozkoszujmy się w Jego prawdzie, zanurzmy się w Jego obecności, bądźmy odnowieni na wzór/obraz Jego charakteru, do upojenia pijmy z uzdrawiających źródeł niebiańskiej prawdy i miłości, i pozwólmy, by Boże lekarstwo ukoiło nasz ból, zaleczyło rany i uwolniło nas od wszelkiego strachu, poczucia winy, wstydu, gniewu, goryczy i samolubstwa. A potem wyjdźmy do tego grzesznego i zepsutego świata i "Miłujmy swoich nieprzyjaciół, dobrze czyńmy tym, którzy nas nienawidzą, błogosławmy tym, którzy nas przeklinają, módlmy się za tych, którzy nam wyrządzają zło". (zob. Łk 6:27-28)
To prawda, że grzech jest podstępny, "lecz gdzie grzech obfituje" (Rm 5:20) tam pełne łaski Boże Remedium obfituje jeszcze bardziej skutecznie!
---
Dr Timothy R. Jennings jest lekarzem psychiatrą, psychofarmakologiem, międzynarodowym mówcą, członkiem specjalnym American Psychiatric Association i członkiem Southern Psychiatric Association. Jest prezesem i założycielem Come and Reason Ministries, a także prezesem Southern and Tennessee Psychiatric Associations. Dr Jennings jest autorem wielu książek, w tym: "The God-Shaped Brain", "The God-Shaped Heart", "The Aging Brain", i "Czy to naprawdę może być tak proste?".