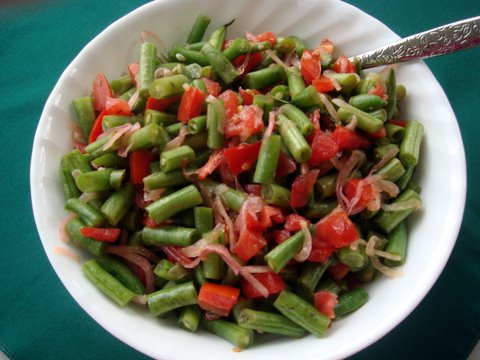 Green Bean Salad
"Vitamins, minerals, amino acids (protein), enzymes, carbohydrates, fats, water and fiber are all essential components of a healthy diet, and every one of these essential components can be found in RAW fruits and vegetables." (Recipes for Life, pg.68)
Another beautiful, crunchy salad to help you include more RAW, living nutrition in your diet. Sprinkle with raw sunflower or pumpkin seeds for even more nutrition and crunch.
Equipment:
Cutting Board
Small Bowl
Medium Bowl
Ingredients:
1 cup red onion, slivered thin
juice of one lemon
2 1/2 cups green beans, cut into 1-inch pieces
10-12 cherry tomatoes, quartered
1 large garlic clove, minced or pressed
2 tsp Bragg Liquid Aminos or tamari or soy sauce
1 Tbsp olive oil
1/4 tsp rosemary, crushed
Directions:
Place slivered onions with the lemon juice in a small bowl. Allow to marinate while preparing the remaining ingredients.
Combine all of the ingredients in a medium bowl, cover and refrigerate several hours or overnight.
from "Recipes for Life" by Rhonda Malkmus