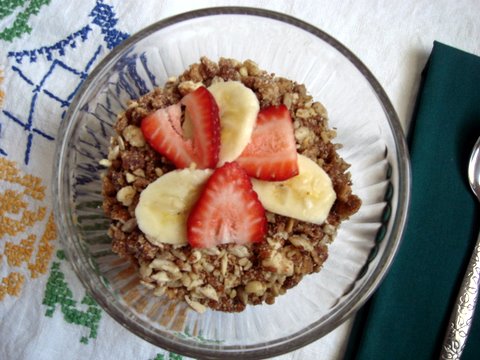 Granola
Cereal is America's most popular breakfast food. Unfortunately, most boxed cereals are made from refined flour and sugar and have little nutritional value. The nuts, seeds and dried fruit in this granola make it incredibly flavorful. I serve this with homemade almond milk, but you may substitute rice milk or soy milk.
Equipment:
Food Processor
Ingredients:
1/4 cup raw almonds
1/4 cup raw sunflower seeds
1/4 cup raw walnuts
4 pitted medjool dates, chopped or 1/4 cup raisins or chopped dried figs
1/4 tsp ground cinnamon
Dash salt
Directions:
Place the almonds, sunflower seeds, and walnuts in a food processor fitted with the S blade and pulse briefly, just until coarsely chopped.
Add the dates, cinnamon, and salt and process briefly to mix.
Top with fresh fruit and almond milk.
Stored in a sealed container in the refrigerator, the granola will keep for up to two days.
Note: If you prefer a less crunchy granola, you may soak the raw nuts and sunflower seeds in water overnight (all in the same bowl). Drain them and air dry them in a colander or strainer for a few minutes before preparing the granola.
from "Raw Food Make Easy for 1 or 2 People" by Jennifer Cornbleet