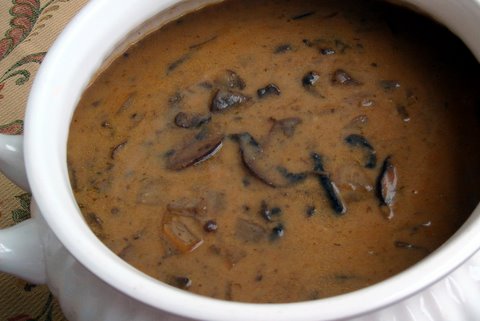 Golden Mushroom Soup
As a child, my introduction to cream of mushroom soup was the Campbell's condensed variety. I would eat it over brown rice for a quick meal. Yum! Older and wiser now, and seeking to avoid the high sodium, high fat and MSG found in my favorite canned soup, I was delighted to find this delicious, dairy free version. Serve it up with a beautiful green salad or try it as a gravy over mashed potatoes or your favorite steamed veggies.
Equipment:
Large Pan
Small Sauce Pan
Ingredients:
2 medium onions, chopped
2 1/2 cups water or vegetable stock
1 pound fresh mushrooms, sliced
1 1/2 tsp dried dill
1 Tbsp paprika
1 Tbsp Soy Sauce or Bragg Liquid Aminos
2 Tbsp olive oil
3 Tbsp flour
1 cup unsweetened soy milk
Directions:
In large pan, braise chopped onion in 1/2 cup of the water or stock until soft.
Add mushrooms, dill, and paprika and continue cooking for 5 minutes, stirring frequently.
Add soy sauce and remaining 2 sups water or stock, then cover and simmer for 10 minutes.
Lightly warm the oil in a saucepan, then add the flour. Cook 1 minute, stirring constantly, then whisk in the soy milk until smooth. Simmer over low heat, stirring constantly until slightly thickened.
Add this mixture to mushroom mixture. Cover and simmer 10 minutes.
from "The High Road to Health" by Lindsay Wagner