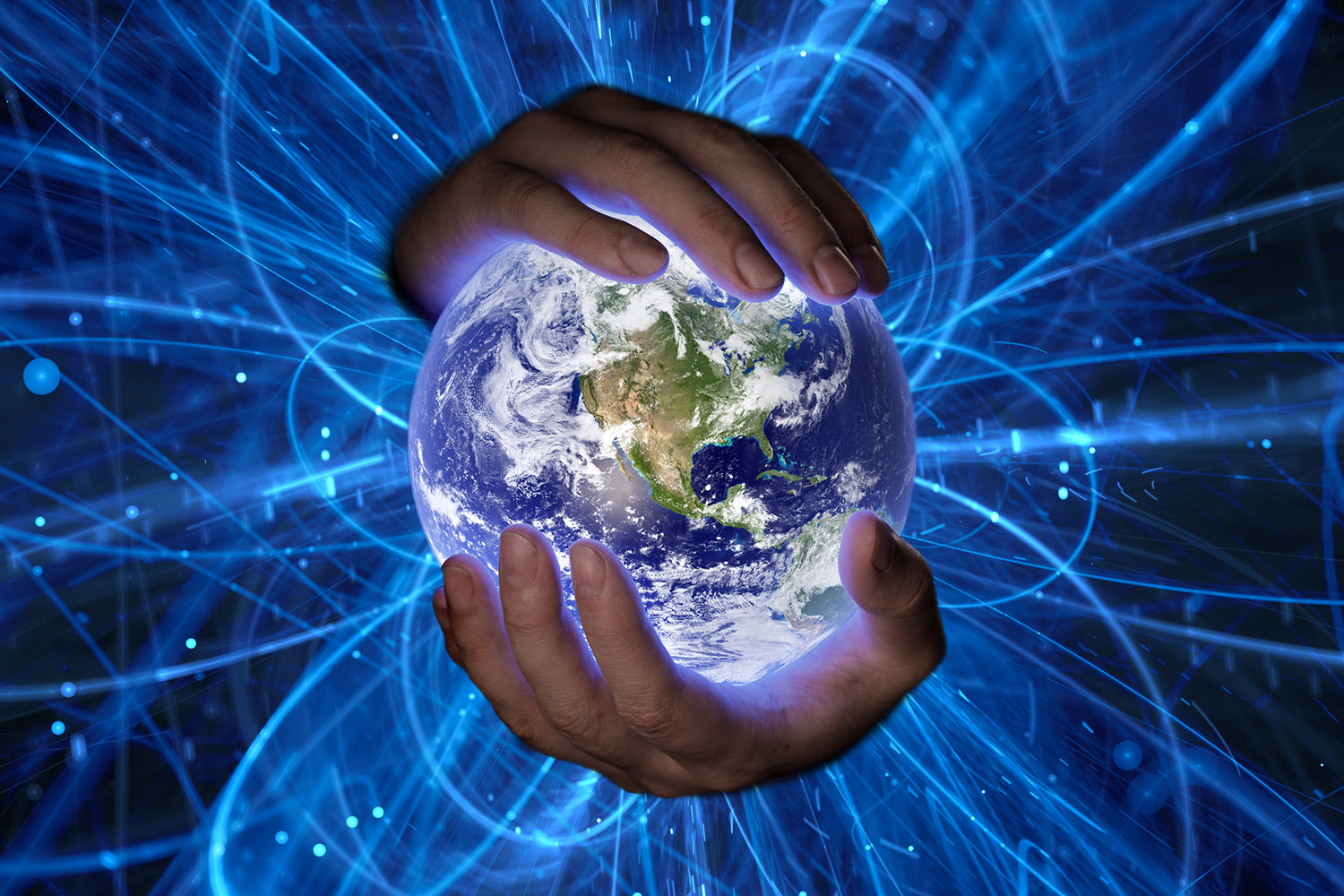 Dios esta al control – De qué?
Reciéntemente, una persona en un foro en línea me pregunto:
Mencionaría usted personalmente – despues de todo el conflicto, la discordia, el crimen [la iglesia] que se enfoca en una paronoia escatológica – de que "Dios es en control" a cualquier audiencia?
En respuesta algunos otros miembros del forum tomaron la pregunta de que "si Dios está al control" – y como sugerirle esto a una persona que ha sido víctima de un crimen o de algún tipo de explotación, puede ser molesto; estando en las secuelas de una violacion o un incesto de que "Dios está al control", algunas víctimas han rechazado a Dios.
Así que está Dios en control? Y si está, de qué?
La clave para entender este dicho " Dios está en control," asi como esencialmente todas las preguntas teológicas, es como uno entiende la ley de Dios. Si tú crees que la ley de Dios funciona como las leyes que los humanos hacen – reglas impuestas que requieren de la autoridad de un mandatario para imponer castigo – entonces la gente ve a Dios como el que hace que todas las cosas pasen, lo que inevitablemente les lleva a formar teologías erróneas. Una variedad de diferentes errores se formaron bajo esta teoría, como la creencia de que cuando las tragedias ocurren es Dios el que trae el dolor – tal como Dios controla al abusador que abusa de alguien, o Dios dirigió los huracanes, los temblores, o Dios endurece el corazón de ciertas personas.
Algunos que rechazan a un Dios castigador, pero no rechazan la idea de la ley impuesta, abrazan y promueven el Universalismo. Ellos enseñan que porque Dios es amor, Él quiere que todos sean salvos al final. Como el error anterior, este tambien se deriva de la mentira de que Dios esta imponiendo su deseo imperialista para matener "Justicia" en su gobierno enforzando sus leyes.
En el nivel de madurez espiritual en que alguien se encuentre – el nivel en que un individuo comprende lo que es bueno o malo – juega un papel importante en este caso. Véase mi blog Seven Levels of Moral Development para una explicación mas amplia de estos diferentes niveles. Pero rápidamente, los niveles del uno al cuatro son los niveles de inmadurez. En cada uno de éstos, lo correcto o lo incorrecto es de alguna manera determinado por el comportamiento y las personas buscando seguridad en cumplir las reglas de algún tipo. Aquellos operando en alguno de estos niveles encuentran seguridad en la creencia de que Dios controla todo, asi que ellos no temen estar en problemas mientras estén guardando las reglas correctas. Pero esta variable no funciona como una creencia racional, porque la historia esta repleta de cosas malas que le han pasado a gente buena, y el libro de Job lo hace explícitamente claro, que las cosas malas no vienen de Dios.
La Realidad de lo que Dios Controla
La verdad es entendida cuando aceptamos que Dios es el Creador y sus leyes son el protocolo sobre el cual la realidad funciona, así como la ley de la física, la ley del amor, de la verdad, de la adoración, de la libertad, la ley del esfuerzo, las leyes de la salud, las leyes morales y muchas más. Es como la realida funciona. Véase mi blog on Design Laws para una exploración mas extensa sobre las diversas leyes naturales.
Asi que Dios está en control de lo que Él controla – y Dios se controla a Él mismo y a sus leyes. Él sostiene la realidad; Él mantiene el universo funcionando sobre los protocolos y las leyes que Él estableció. Y una de esas leyes es la ley de la libertad, la cual concede real libertad a los seres humanos. Por qué? Porque el amor solo existe en una atmosfera de libertad.
Esto es como Dios endureció el corazódn de Faraón (Exodos 4:21; 7:3) sin embargo Faraón endureció su propio corazón (Exodos 8:15,32). Como endureció Dios el corazón de Faraón? Presentandole la verdad y dejando a Faraón libre de aceptarla o recharzarla. El aceptarla o recharzarla causa el resultado final – curación o endurecimiento. El acto de elegir aceptar o rechazar la verdad, de abrazar el amor o abrazar el egoísmo; de robar, mentir, engañar, o ser honesto, veraz y leal, cambia la persona que toma la decisión. Sin la verdad expuesta y la libertad de recharla, el corazón de Faraón no se hubiese endurecido. Asi que Dios endureció el corazón de Faraon a través de las leyes de la verdad y la libertad; Dios presentó la verdad y dejó al gobernante libre. Dios controla sus leyes, pero Faraón ejerció su voluntad y controló su propia decisión, y decidiendo rechazar la verdad, él endureció su propio corazón. De esta forma es que la realidad funciona y es como Dios esta en control.
Asi que la próxima vez que oigas "Dios esta en control" piensa, "En control de qué? – y recuerda que Dios esta en control de Él mismo y de las leyes sobre las cuales la realidad fue construida para operar. Esto significa que tenemos una libertad real, porque solamente en semejante libertad el amor existe. Si Dios nos hubiese hecho robots, nos hubiésemos portado perfectamente, pero no habría amor. Dios solo gana su causa utilizando sus metodos – verdad, amor, y libertad. Por eso la biblia dice, "No con ejercito ni con fuerza, si no con mi espíritu, ha dicho Jehová de los ejercitos" (Zacarias 4:6)
Puedes confiar en Dios para limpiar al mundo de temor, del egoísmo, del pecado, de enfermedades, dolor, sufrimiento y muerte – para convertir la tierra a perfección y seguridad eterna. Y Él obtiene esto vía el ejercicio de la verdad, amor, y libertad. Dios, está al control de Él mismo y sus leyes, incluyendo la ley de la libertad, lo que significa que Él nunca nos va a controlar. Por eso es que el último fruto del Espíritu Santo, cuando haya terminado su obra de restauración en nuestras vidas, es "Auto control" (Gálatas 5:23). Dios nos deja en completa libertad de gobernarnos y controlarnos a nosotros mismos, porque Él restaurará sus leyes en nuestras mentes y corazones y otra vez podremos funcionar sobre las leyes que Él construyó la realidad para que funcionara.
Te invito a que te rindas a nuestro Creador – no para convertirte en un títere que Él controla, pero para convertirte en el sujecto a quien Él restaura y deja libre para vivir en armonía con su caracter de amor.
---
Timothy R. Jennings, M.D (doctor médico), es un psiquiatra certificado, con una maestría en psicofarmacología, orador internacional, miembro distinguido de la Asociación Psiquiátrica de América y de la Asociación Psiquiátrica del Sur (Estados Unidos). Es el presidente y fundador del ministerio "Come and Reason" (Ven y razonemos juntos) y ha servido como presidente de la Asociación Psiquiátrica del Sur y Asociación Psiquiátrica de Tennessee. El Doctor Jennings es el autor de varios libros, incluyendo The God-Shaped Brain (El Cerebro moldeado por Dios), The God-Shaped Heart (El Corazón moldeado por Dios), y The Aging Brain (El Cerebro Envejeciendo).