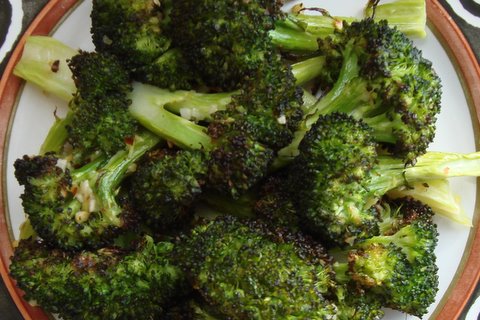 Garlicky Roasted Broccoli
Not a broccoli lover? This recipe just might change your mind. And it's easy! The garlic, ginger and lemon give it so much flavor, and roasting changes the texture just a bit. It's absolutely delicious! I easily eat a whole crown in one serving.
Equipment:
Chopping Board
Large Bowl
Rimmed Baking Sheet
Ingredients:
3 pounds broccoli, cut into long spears
4 Tbsp olive oil
2 Tbsp garlic, minced
2 tsp fresh ginger, finely chopped
1 tsp sea salt
1/2 tsp crushed red pepper (optional)
Lemon wedges for serving
Directions:
Preheat the oven to 450 degrees. In a large bowl, toss the broccoli with the olive oil, garlic, ginger, sea salt and crushed red pepper.
Spread the broccoli on a rimmed baking sheet and roast in the oven for about 20 minutes, stirring occasionally, until crisp tender.
Serve with lemon wedges.