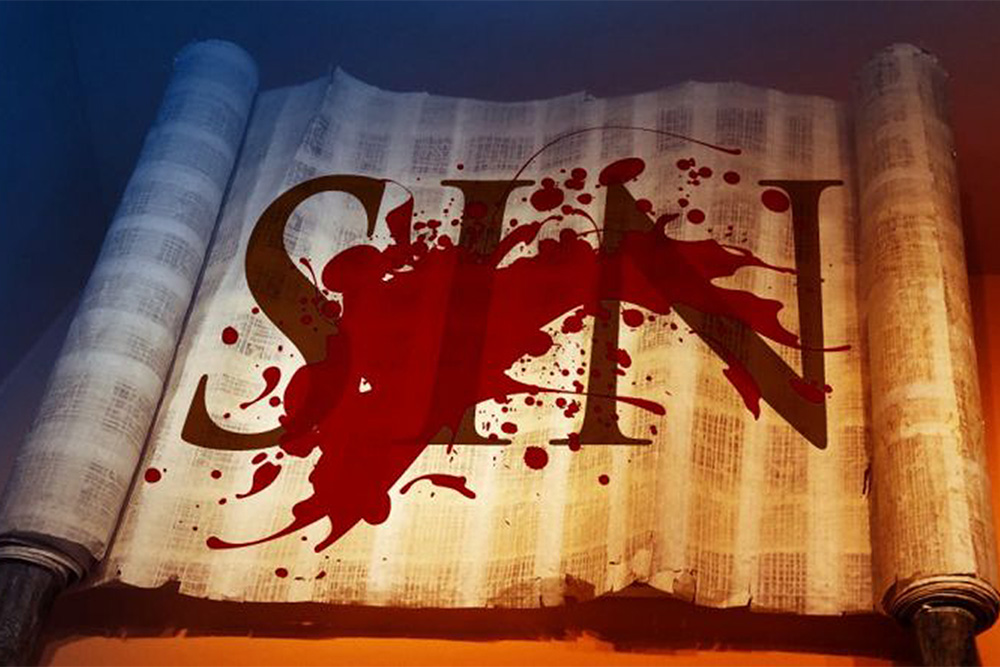 Czy Grzech Zanieczyszcza Świątynię? (Część 1)
Doktorze Jennings,
Zacząłem czytać Pana artykuł Kwestia śmierci Chrystusa (część 2), który bardzo mnie zainteresował, gdyż nigdy nie postrzegałem problemu grzechu w ten sposób. Chciałbym jednak zadać kilka pytań:
Na przykład, w czasach Starego Testamentu, kiedy ktoś przynosił baranka do świątyni i wyznawał swoje grzechy na głowę zwierzęcia, czy te grzechy nie były przenoszone bezpośrednio do świątyni? I czy Jan Chrzciciel nie powiedział, "oto Baranek Boży, który gładzi grzechy świata"? Czy Jezus nie cierpiał jedynie za grzechy prawych ludzi? I jeżeli to szatan jest odpowiedzialny za naszą sytuację, to dlaczego [nasz kościół] naucza, że Jezus zapłacił okup Bogu? Czy śmierć Jezusa była wymagana przez szatana, czy też Bóg wymagał Jego śmierci? Jestem pewien, że Bóg nie żądał śmierci Jezusa, i że szatan jest winien Jego śmierci na krzyżu, ale ja oczywiście pomogłem szatanowi umieścić tam Jezusa, ponieważ popełniłem wiele błędów. Jeśli chodzi o obrzędy świątynne tu na ziemi, to jeden kozioł był dla Pana, drugi dla Azazela. Jeden reprezentował Jezusa, drugi szatana. Naucza się, że grzechy zostały przeniesione ze świątyni na kozła zwanego Azazelem, i wiemy, że świątynią jest sam Jezus, który wziął na siebie grzechy świata i potem przeniesie te grzechy na szatana, który jest winien wszelkiego zła, które wydarzyło się na tym świecie.
Proszę o więcej szczegółowych informacji na ten temat; liczę na szybką odpowiedź.
Z góry dziękuję – LT
Doskonałe pytania! Przez całe stulecia wprowadzały one wielkie zamieszanie wśród chrześcijan, i do tej pory nic się nie zmieniło. Zanim będziemy mogli zrozumieć szczegółowe zagadnienia powyższych pytań, musimy zrozumieć cel starotestamentowego systemu świątynnego.
System świątynny Starego Testamentu służył jako lekcja poglądowa symbolicznie przedstawiająca Boży plan wybawienia ludzkości z grzechu. Był to "mini-teatr" ze szczegółowo wyreżyserowaną sceną, eleganckimi kostiumami, misternymi rekwizytami, gdzie Izraelici byli aktorami, a sam Bóg – reżyserem. Sam system jednak był zaledwie podręcznikiem czy ilustracją.
Nie posiadał mocy, by oczyścić z grzechu lub pojednać grzeszników z Bogiem, ale miał uczyć grzeszników Bożego planu, gdzie Bóg miał zesłać swego Syna na świat, by dokonał dla ludzkości tego, czego nie moglibyśmy sami osiągnąć, a mianowicie odkupienia, odnowienia, uzdrowienia z grzechu.
Mając to na uwadze, rozważmy powyższe pytania.
Po wyznaniu swoich grzechów na głowę baranka, grzesznik podcinał barankowi gardło, a kapłan łapał krew i przenosił ją do różnych punktów systemu świątynnego. Baranek jest oczywiście symbolem Chrystusa; wyznanie grzechów na głowę zwierzęcia reprezentowało realność, że grzech to sposób myślenia – postawa, zasada pojawiająca się w umyśle. Wyznanie grzechu na baranka wskazywało na to, że Chrystus miał przyjść na ziemię, by zająć nasze miejsce i wziąć na siebie nasz grzeszny stan: "Lecz on nasze choroby nosił, nasze cierpienia wziął na siebie" (Izajasz 53:4 Pozn).
Według niektórych interpretacji Chrystus wziął na siebie wszystkie nasze indywidualne grzeszne czyny. Jak wykazałem w blogu Kwestia śmierci Chrystusa (część 2), talki pogląd nie jest poparty żadnymi dowodami ani nie ma żadnego uzasadnienia. O wiele sensowną interpretacją jest to, że Chrystus wziął na siebie nasz grzeszny stan, aby go wyleczyć, oczyścić, uzdrowić i na nowo przywrócić ludzkość do harmonii z Bogiem. Tak więc akt wyznania grzechu na głowę baranka symbolizuje uznanie Jezusa jako naszego jedynego środka do uzdrowienia, odkupienia i uwolnienia z grzechu, gdyż wziął On na siebie nasz stan i pokonał szatana oraz podwalinę jego rządów – egoizm.
Niektórzy chrześcijanie nauczają, że grzechy zostały przeniesione do samej świątyni, tym samym zanieczyszczając ją, co wymagało corocznego oczyszczenia budynku w Dniu Pojednania. Wyciągają z tego wniosek, że kiedy dzisiaj wyznajemy swoje grzechy, są one zapisywane w świątyni niebieskiej (Hebrajczyków 8:2‑5), a zatem przenoszone do świątyni, co powoduje jej "zanieczyszczenie", i dlatego świątynia w niebie wymaga oczyszczenia.
Takie rozumowanie przysparza poważnych problemów. Po pierwsze, nigdy nie znalazłem żadnych biblijnych dowodów na to, że krew zwierzęcia ofiarnego kiedykolwiek coś skaziła lub zbezcześciła (jeśli ktoś znajdzie na to biblijne dowody, proszę o ich przedstawienie). Natomiast Biblia bardzo wyraźnie mówi, że wszystko, czego dotknęła krew lub mięso zwierzęcia ofiarnego stało się święte, oczyszczone, omyte – a nie skalane.
Przemyślmy to. Jeśli grzechy wyznane na głowę zwierzęcia zanieczyszczały zarówno zwierzę jak i jego krew, wówczas moglibyśmy powiedzieć, że grzech został 'przenoszony' do świątyni i 'zanieczyszczał' ją. Taki pogląd wyraźnie wskazuje na to, że to nie Jezus odniósł zwycięstwo nad grzechem, ale grzech odniósł zwycięstwo nad Jezusem.
Oznaczałoby to, że krew Jezusa nie oczyszcza, ale zanieczyszcza. Jest to jednak nieprawdą. Krew Jezusa reprezentuje Jego nieskalane życie, które wierzący ma przyswoić do własnego serca i umysłu. Jezus powiedział: "Jeśli nie będziecie jeść ciała Syna Człowieczego i pić jego krwi, nie będziecie mieć życia w sobie" (Ew Jana 6:53). Nie było to sugestią, że mamy uprawiać kanibalizm, ale uczy prawdy, że krew Jezusa reprezentuje Jego doskonałe, zwycięskie życie, które pokonało grzech, i w którym my możemy mieć udział (stać się 'uczestnikami Boskiej natury' – 2 Piotra 1:4). W ten sposób stajemy się na nowo pojednani z Bogiem! Pogląd, że grzechy są przenoszone do świątyni w krwi zwierzęcia ofiarnego, zanieczyszczając tym świątynię, nie wydaje się mieć żadnego biblijnego uzasadnienia.
Wypowiedź Jana Chrzciciela wyraźnie wskazuje na to, że Chrystus przyszedł by zgładzić grzeszność świata – bunt, samolubstwo, wrogość świata wobec Boga – i na nowo pogodzić lub pojednać ludzkość z Bogiem. Chrystus nie przyszedł po to, by sfałszować historię i usunąć zapisy grzechów, ale aby wyleczyć, odnowić i przezwyciężyć grzeszność w swoim ludzkim ciele!
Cierpienia Jezusa były jedynym środkiem zdobycia lekarstwa na grzech, które jest teraz dostępne bezpłatnie dla całej ludzkości – zarówno dla ludzi niegodziwych, jak i sprawiedliwych – dzięki mocy Ducha Świętego oddziałującej na wrażliwe i pragnące Go serca. Prawdę mówiąc, wszyscy sprawiedliwi byli niegdyś niesprawiedliwi, dopóki nie skorzystali z lekarstwa/kuracji zaoferowanej przez Jezusa.
Dziękuję za te doskonałe pytania. Resztę ich omówimy na blogu w przyszłym tygodniu.