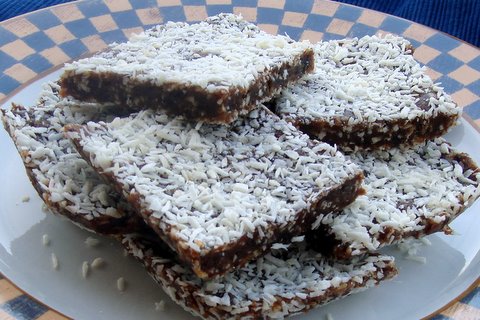 Date Pecan Squares
Wonderfully delicious, these bars will definitely satisfy your sweet tooth. I like to use moist and tender Medjool dates for this recipe, but other dates will work as well. This mixture can also be used as a pie crust, if desired.
Equipment:
Food Processor
8″ x 8″ pan
Ingredients:
1/2 cup pecans
1 cup dates, pitted
1 cup raisins
1 tsp vanilla extract (optional)
1 cup dried, unsweetened coconut
Directions:
Using the "S" blade in a food processor, grind pecans to a fine meal.
Add pitted dates, raisins and vanilla. Process until a dough-like consistency is reached.
By hand, work 1/2 cup coconut into the mixture.
Sprinkle 1/4 cup coconut in an 8″ by 8″ pan, press date-pecan mixture on top. Top with the remaining 1/4 cup coconut.
Cover and place in refrigerator. When chilled, cut into squares.
Note: For Date Pecan Bites instead of Squares, shape the mixture into balls or logs, then roll them in the coconut and refrigerate.
from "Recipes for Life" by Rhonda Malkmus