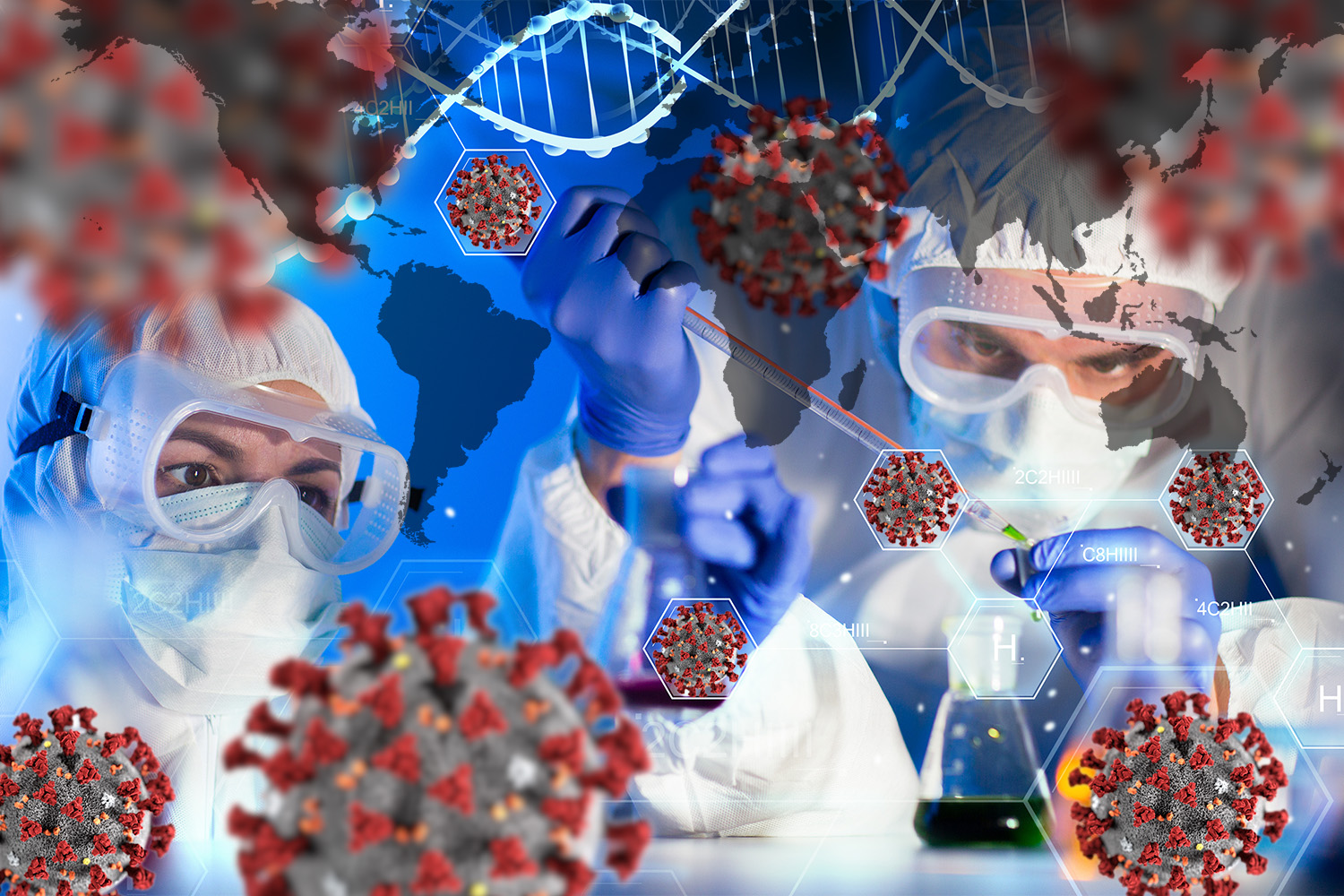 Coronavirus (COVID-19) y Lecciones del tiempo del fin
En estas últimas semanas, mientras la pandemia del COVID-19 ha arrasado al mundo, he recibido muchísimas preguntas sobre la manera en que esta crisis se relaciona con los eventos finales descriptos en el libro de Apocalipsis.
La Biblia nos dice: "Y este evangelio del reino, será predicado a todo el mundo como testimonio a todas las naciones, y entonces vendrá el fin". (Mateo 24:14 NVI) Muchos se han preguntado: ¿Cómo podrá el mundo entero llegar a oír del evangelio? ¿Podrá ser que esta pandemia sea el catalizador que ayude a propagar el evangelio a todo el mundo? ¿De qué manera llegaran todos al punto de tener que escoger o elegir entre Dios y Satanás, entre el Reino de los cielos o el reino de este mundo?
¿Has escuchado en cuanto a las escenas del tiempo del fin, que describen a ejércitos humanos peleándose en el Medio Oriente, o grupos religiosos controlando a gobiernos para que promulguen leyes imponiendo ciertas doctrinas o prácticas religiosas? En estos escenarios, se sugiere que el mundo sea llevado al punto de tener que elegir a cuál ejército apoyar, o a qué doctrina creer, o qué práctica religiosa aceptar.
Sin embargo, me gustaría sugerir que, la presentación final del evangelio y la prueba final que cada persona tendrá que enfrentar, será mucho más básico y simple. Será una prueba, no sobre doctrinas correctas sino de carácter: ¿Amamos a los demás o nos amamos más a nosotros mismos?
¿Elegiremos sacrificarnos a nosotros mismos en un servicio piadoso por otros, o elegiremos protegernos a nosotros mismos aún cuando esto dañe o perjudique a otros?
Hace dos semanas, publiqué un blog acerca de los virus y describí como el virus no fue parte de la creación de Dios, pero en cambio son manifestaciones del egoísmo. El virus solo busca reproducirse a sí mismo yo, yo, yo, y más yo, sin pensar en otra cosa que no sea su propia reproducción, aun cuando a la larga mata a su huésped y a sí mismo. Los virus son la manifestación física de la ley del pecado y la muerte, del egoísmo y de los principios y métodos del reino de Satanás. Es lo opuesto al reino de amor de Dios, cuyo principio es dar, servir y sacrificarse por los demás.
Jesús dijo:
"Y este es mi mandamiento: que se amen los unos a los otros, como yo los he amado. Nadie tiene amor más grande que el dar la vida por sus amigos. (Juan 15: 12 y 13) NVI
Juan escribió:
"En esto conocemos lo que es el amor: en que Jesucristo entregó su vida por nosotros. Así también nosotros debemos entregar la vida por nuestros hermanos. (1ra de Juan 3: 16) NVI
El reino de Dios es un reino de amor, no es un reino motivado por el temor ni concentrado en uno mismo, no es abusador de otros, en cambio es un reino que sirve, que da, que sana y restaura.
Apocalipsis describe a los seguidores de Dios en el tiempo del fin y que están listos para ver a Jesús, como personas que "no valoraron tanto su vida, como para evitar la muerte" (Apocalipsis 12: 11) NVI.  Estas personas no son motivadas por el miedo o temor. No buscan protegerse a sí mismas. Eligen hacer lo correcto aun cuando esto signifique peligro o dificultad para sus propias vidas. Esto es lo opuesto al mundo del egoísmo, opuesto al instinto de supervivencia, y es solo posible para aquellos que tienen la ley de amor de Dios escrita en sus corazones. (Hebreos 8:10)
Mientras el mundo se acerca cada vez más a la segunda venida de Cristo, la Biblia nos dice que las personas de la tierra estarán atrapadas en los negocios de la vida: el poner comida en la mesa, en la construcción de casas, casándose y siendo entretenidos en los negocios de esta vida a tal punto que no se darán cuenta que el mundo se está acercando a su fin. (Mateo 24: 36-39 y Lucas 17: 26-30)
Dios quiere que todos sean salvos (2ª. Pedro2:10) Dios está "reteniendo los vientos" misericordiosamente, esperando que la gente despierte. Los ángeles retienen los vientos de lucha, para dar a la gente la oportunidad de pensar y actuar; de examinar su carácter y escoger a cuál de los dos reinos desean ellos ser parte. (Apocalipsis 7:1-3)
¿Amarán a otros, o endurecerán sus corazones por el egoísmo?
¿Tomará el miedo o el temor el control de sus corazones, o el "amor que echa fuera al temor" controlará sus vidas?
¿Escogerán las personas el reino de amor a Dios, o elegirán el reino de Satanás basado en el miedo y la supervivencia del más fuerte?
Cuando ocurre una pandemia, ¿espera la gente hasta que necesita conseguir para sus necesidades básicas, o amontonan recursos en grandes cantidades lo que necesitan y lo que no necesitan, sin tener en cuenta a los demás, privándoles tal vez de algún recurso que puede significar la vida o la muerte?
En general, ¿escoge la gente tomar ventaja y estafar a otros con precios altísimos, o buscarán de compartir y dar a otros de lo que tienen en la casa a aquellos que lo necesitan? Justamente esta semana, uno de mis pacientes me dio dos máscaras N95 que tenía en la casa. Él estaba preocupado por mí y pensó que yo podría tener más necesidad de ellas que él. ¡Esto es el amor divino en acción!
Amor divino no es solo compartir, hace más que esto, el que tiene amor divino puede correr el riesgo de estar en peligro con tal de ayudar a otros. Doctores, enfermeras, policías, ambulancias, y muchos más se preocupan por los necesitados a pesar del riesgo que corren ellos mismos.
El verdadero amor divino puede aún brillar más cuando produce en uno el deseo de sacrificarse por los demás. En medio del desenfrenado temor producido por el "corona virus", Don Giuseppe Berardelli, un sacerdote italiano de 72 años, el cual contrajo el virus del coronavirus, escogió este amor divino, al rechazar el impulso de salvarse a sí mismo (que es lo que ocurre cuando vivimos con temor) o sea que no amó su vida como para evitar la muerte, en cambio renunció a su máquina de oxígeno, para que un paciente más joven pudiera utilizarla. Tristemente este amoroso sacerdote, falleció. El escogió el amor de Dios por encima de los caminos de este mundo. Su elección no se basó en credos, afiliación religiosa, sino sobre su carácter.  El eligió el reino de amor de Dios por sobre los caminos de este mundo.  Y cuán brillante ha sido su acto de amor.
¿Cómo será la manera en que cada persona en este mundo llegue a tomar una decisión a favor o en contra del reino de Dios? Por eventos como esta pandemia. Cada persona será colocada en situaciones por las que tenga que decidir entre, ceder al temor o amar a los demás.  ¿Se aislarán en sus hogares por amor de otros o se irán de fiesta a la playa llena de gente?  ¿Acumularán máscaras, desinfectantes, papel higiénico, medicamentos, agua y alimentos, o usarán solo lo que necesitan y permitirán que otros, que también tienen necesidades obtengan los suministros necesarios? ¿Se sacrificarán por los demás o sacrificarán a los demás sí mismos?
La mayoría de los libros escritos sobre eventos del tiempo del fin, alegan que el examen final, que las personas enfrentarán, será sobre doctrinas y prácticas religiosas. Sin embargo yo creo que el examen final será sobre el carácter. ¿Amamos a Dios y a otros? ¿Estamos dispuestos a sacrificarnos por otros o dejaremos que el temor endurezca nuestros corazones y solidifique el egoísmo de manera tal que nos neguemos de ayudar a los demás con tal de protegernos a nosotros mismos?
En el futuro, independientemente de cualquier crisis particular, desastre, enfermedad, o plaga que nos golpee, la pregunta será: ¿a quién amas, en quién confías y el carácter de quien tienes? ¿El de Cristo o el de Satanás?
Jesús nos dice "Regreso pronto. El que prevalece aceptando el tratamiento que ofrezco y vive en armonía con los métodos de amor hasta el final; hare de el una columna, una piedra viva en el templo celestial de mi Dios – Una comunidad de seres santos.  Los lazos de conexión con Dios jamás serán cortados.  Reproduciré en sus corazones el carácter de mi Dios.  Los marcare como ciudadanos de la Nueva Jerusalén, la cual bajara del cielo desde la presencia de Dios y también escribiré mi nombre en sus mentes y sus corazones.     (Apocalipsis 3: 11 y 12 The Remedy)
---
Timothy R. Jennings, M.D (doctor médico), es un psiquiatra certificado, con una maestría en psicofarmacología, orador internacional, miembro distinguido de la Asociación Psiquiátrica de América y de la Asociación Psiquiátrica del Sur (Estados Unidos). Es el presidente y fundador del ministerio "Come and Reason" (Ven y razonemos juntos) y ha servido como presidente de la Asociación Psiquiátrica del Sur y Asociación Psiquiátrica de Tennessee. El Doctor Jennings es el autor de varios libros, incluyendo The God-Shaped Brain (El Cerebro moldeado por Dios), The God-Shaped Heart (El Corazón moldeado por Dios), y The Aging Brain (El Cerebro Envejeciendo).