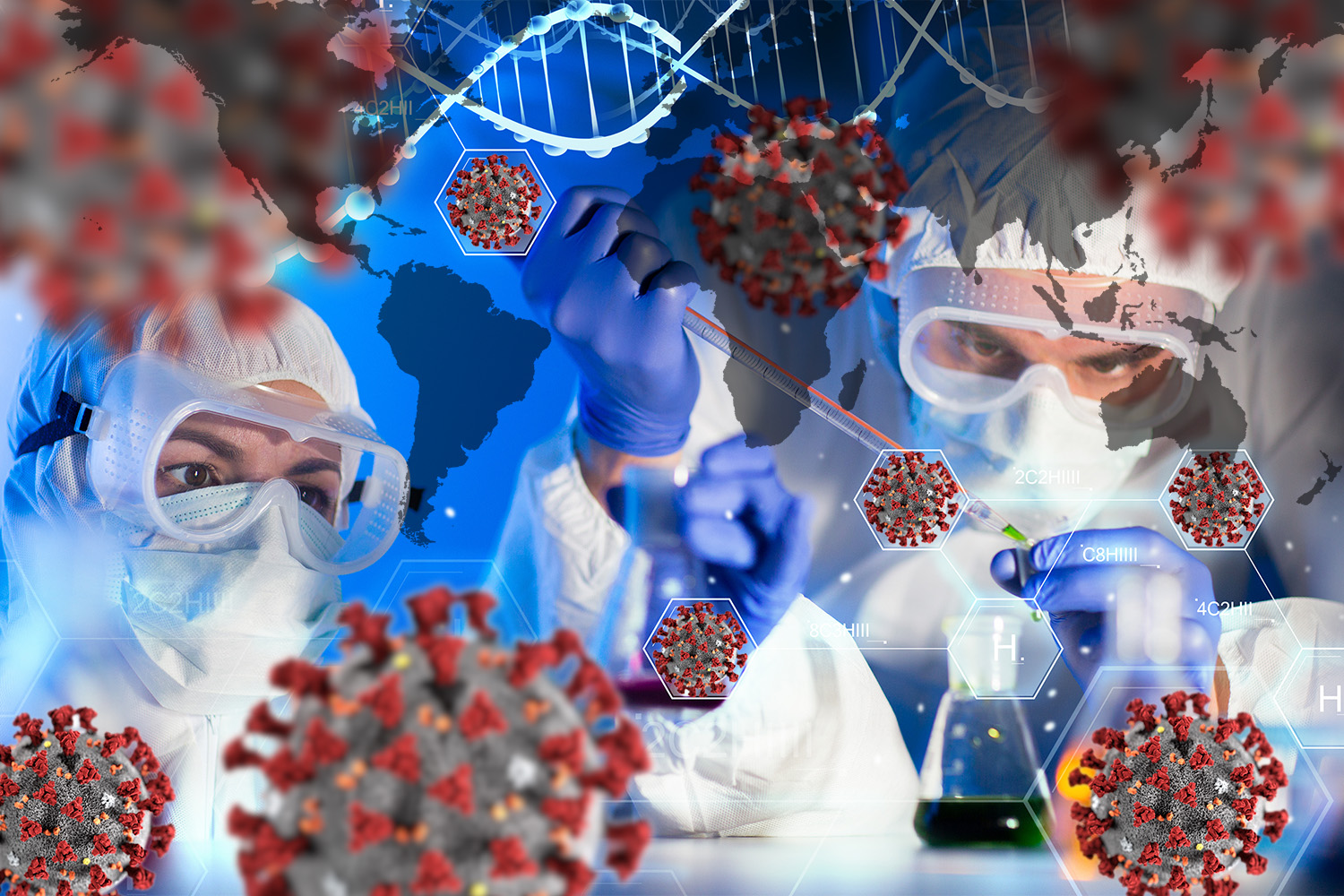 Koronawirus (COVID-19) i lekcje na czasy końca
W ciągu ostatnich kilku tygodni, kiedy pandemia COVID-19 ogarnęła świat, wielu zapytuje, jakie jest powiązanie pomiędzy owym kryzysem a wydarzeniami czasów końca opisanych w księdze Apokalipsy.
Biblia mówi, że "ta ewangelia królestwa będzie głoszona po całym świecie na świadectwo wszystkim narodom. I wtedy przyjdzie koniec." (Mat 24:14 UBG). Wielu zastanawia się nad tym, w jaki sposób ewangelia może dotrzeć do całego świata. Czy obecna pandemia jest tu katalizatorem, który przyśpieszy szerzenie się ewangelii po całym świecie? Jak może dojść do tego, że każdy będzie musiał stanąć przed dokonaniem wyboru pomiędzy Bogiem a szatanem – między królestwem niebieskim a królestwem tego świata?
Słyszymy teorie, że w czasach końca na Bliskim Wschodzie będą toczyły się wojny, albo że grupy religijne będą walczyły ze sobą o kontrolę nad narodami poprzez wprowadzenie własnych doktryn lub praktyk religijnych. Takie scenariusze sugerowałyby, że każdy musi stanąć po stronie poszczególnego skrzydła politycznego, lub wyznawać i praktykować specyficzne nauki religijne.
Chciałbym tu zasugerować, że ostateczne głoszenie ewangelii, jak również ostateczny test, przed którym stanie każdy człowiek, będzie o wiele bardziej prosty i nieskomplikowany. Nie będzie to test w odniesieniu do właściwych wierzeń, ale próba charakteru – próba wskazująca na to, czy kochamy innych bardziej niż siebie; czy wybierzemy bogobojną, ofiarną służbę bliźniemu, czy też będziemy dbać tylko o siebie, nawet za cenę wyrządzenia krzywdy innym?
Kilka tygodni temu opublikowałem blog o wirusach, w którym wyjaśniłem, że wirusy nie były częścią Bożego stworzenia, natomiast są przejawem samolubstwa. Celem wirusa jest powielanie samego siebie – ja, ja, ja, i jeszcze raz JA, biorąc pod uwagę jedynie własną replikację, nawet jeśli doprowadzi to do uśmiercenia organizmu oraz siebie. Wirusy to fizyczna manifestacja prawa grzechu i śmierci, samolubstwa, zasad i metod królestwa szatana. Wirusy są jaskrawym przeciwieństwem Bożego królestwa miłości oraz jego zasad dawania, służenia, samopoświęcenia.
Jezus powiedział:
"To jest moje przykazanie, abyście się wzajemnie miłowali, jak i ja was umiłowałem. Nikt nie ma większej miłości od tej, gdy ktoś oddaje swoje życie za swoich przyjaciół." (Jan 15:12, 13 UBG).
W ewangelii Jana czytamy:
"Po tym poznaliśmy miłość Boga, że on oddał za nas swoje życie. My również powinniśmy oddawać życie za braci." (1 Jana 3:16 UBG).
Królestwo Boże to królestwo miłości – nie kierowane zasadami strachu, wyzysku, skupiania się na sobie, ale królestwo, w którym panuje służba innym, dawanie, uzdrawianie i odnawianie. W księdze Apokalipsy zawarty jest opis ludu Bożego w czasach ostatecznych; ludu gotowego na spotkanie z Chrystusem przy Jego powtórnym przyjściu: "…nie umiłowali swojego życia – aż do śmierci." (Ap 12:11 UBG). Owi ludzie nie kierują się strachem, nie starają się chronić samych siebie; nie zaprzestają właściwego postępowania tylko po to, by ratować własne życie. Jest to przeciwieństwem samolubstwa, przeciwieństwem instynktu przetrwania, oraz charakteryzuje jedynie tych, którzy mają zapisane w sercach Boże prawo miłości (Heb 8:10).
Biblia opisuje, że chociaż powtórne przyjście Chrystusa staje się coraz bliższe, to ludzie na ziemi będą pochłonięci sprawami codziennego życia: jedzeniem i piciem, weselami, kupowaniem i sprzedawaniem, sadzeniem, budowaniem i rozrywką, nie zdając sobie sprawy, że koniec świata jest tuż u drzwi (Mat. 24: 36-39; Łuk. 17: 26-30).
Bóg pragnie, abyśmy wszyscy zostali zbawieni (2Pt 3:9), toteż litościwie zezwala czterem aniołom powstrzymującym wiatry, by rozluźnili uścisk w celu obudzenia ludzi – by dać nam okazję do zastanowienia się i podjęcia akcji, oraz byśmy mogli przetestować swoje charaktery i zadecydować, które królestwo obierzemy za swoje (Ap 7:1-3).
Czy będziemy kochać innych, czy też zatwardzimy swe serce w skrajnym samolubstwie?
Czy pozwolimy strachowi przejąć kontrolę nad sercem, czy też miłość usunie z niego lęk?
Czy wybierzemy Boże królestwo miłości, czy też królestwo szatana oparte na zasadach strachu oraz kierowane instynktem przetrwania najsilniejszego?
Czy w przypadku pandemii racjonalnie kupować będziemy jedynie potrzebne nam rzeczy, czy też będziemy gromadzić zapasy, a tym samym pozbawiać innych podstawowych środków do ratowanie życia?
Czy będziemy zawyżać ceny, aby wykorzystać innych, czy też będziemy pomagać potrzebującym?
W ubiegłym tygodniu jeden z moich pacjentów podarował mi swoje maseczki N95, uważając, że mogą mi się przydać bardziej niż jemu. To była miłość w akcji!
Boża miłość to coś o wiele więcej niż dzielenie się z innymi; Boża miłość to narażanie się na własną szkodę, aby pomóc innym: lekarze, pielęgniarki, osoby udzielające pierwszej pomocy i wielu innych udziela opieki tym, którzy jej potrzebują, narażając własne zdrowie, a często nawet życie.
Boża miłość świeci jeszcze jaśniej, wiodąc nas do gotowości poświęcenia się dla dobra innych. Wśród trudnego do opanowania strachu wywołanego pandemią COVID-19, Don Giuseppe Berardelli, 72-letni ksiądz we Włoszech, który był zakażony wirusem, obrał miłość i oparł się popędowi samozachowawczemu: nie umiłował swojego życia – aż do śmierci (Ap 12:11) i przekazał swój wentylator młodszemu pacjentowi. Niestety, ksiądz nie przeżył; przedłożył jednak Boże królestwo miłości ponad obyczaje świata. To nie przynależność wyznaniowa, zasady wiary czy rytuały religijne były Jego testem, ale jego charakter i postępowanie. Jakże jasno świeci życie w miłości do bliźnich!
W jaki sposób każda osoba na świecie będzie musiała podjąć decyzję, które królestwo obierze? Poprzez wydarzenia takie jak obecna pandemia, każda osoba znajdzie się w sytuacji, w której będzie musiała zdecydować, czy ulegnie panice czy też umiłuje innych. Czy zostanie w domu czy będzie imprezować na plaży? Czy będzie gromadzić maseczki, środki dezynfekujące, papier toaletowy, leki, wodę i żywność, czy zakupi tylko to, co jest jej potrzebne, udostępniając produkty osobom najbardziej ich potrzebujących? Czy poświęci się dla innych, czy też poświęci innych dla siebie?
Większość książek napisanych na temat wydarzeń czasu końcu usiłuje dowieść, że ostateczny test, przed którym wszyscy staniemy, dotyczy właściwej doktryny lub praktyki religijnej. Wierzę jednak, że ostateczną próbą będzie próba charakteru: czy kochamy Boga i bliźnich; czy jesteśmy gotowi poświęcić się dla nich; czy też pozwolimy, aby strach zatwardził nasze serca i utwierdził je w samolubstwie, tak że odmówimy pomocy innym, by ochronić siebie?
W przyszłych wypadkach kryzysu, katastrofy, choroby lub epidemii, pojawi się pytanie: kogo kochasz, komu ufasz i czyj charakter posiadasz w sercu – Chrystusa czy szatana?
Przemawiając do kościoła, Jezus mówi:
Powrócę wkrótce. … Każdego, kto odniesie zwycięstwo poprzez dokończenie uzdrawiającej terapii i żyć będzie w harmonii z moimi metodami miłości, uczynię filarem, żywym kamieniem, w niebiańskiej świątyni mojego Boga – wspólnocie świętych w niebie. Ich związek z Bogiem nigdy się nie zerwie, a ja wpiszę w nich charakter mego Boga; i zostaną przeze mnie oznaczeni jako obywatele Nowego Jeruzalem, które zstępuje z nieba od Boga. Ponadto, zapiszę swoje Imię w ich sercach i umysłach (Ap 3:11,12 The Remedy New Testament).
---
Timothy R. Jennings, M.D., jest lekarzem psychiatrą, psychofarmakologiem, międzynarodowym mówcą, członkiem specjalnym American Psychiatric Association i członkiem Southern Psychiatric Association. Jest prezesem i założycielem Come and Reason Ministries, a także prezesem Southern and Tennessee Psychiatric Associations. Dr Jennings jest autorem wielu książek, w tym: "The God-Shaped Brain", "The God-Shaped Heart", "The Aging Brain", i "Czy to naprawdę może być tak proste?".