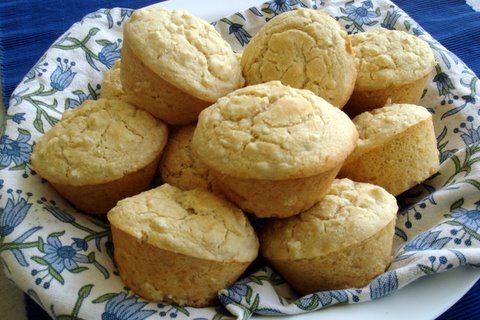 Cornbread Muffins
These muffins are slightly sweet and so light. I added fresh corn kernels from one ear of corn and some chopped onions. Adding some fresh chopped herbs would be wonderful, too. Makes me want to cook up a big batch of chili!
Equipment:
Chopping Board
Small Mixing Bowl
Medium Mixing Bowl
Muffin Pan for 12 muffins
Ingredients:
1 3/4 cups soy milk plus 1 Tbsp apple cider vinegar
1 1/2 cups cornmeal
1 1/2 cups whole wheat pastry flour or unbleached flour
2 tsp aluminum free baking powder
1 tsp sea salt
1/4 cup maple syrup
1 Tbsp canola oil
1 cup fresh or frozen corn (optional)
1 cup onion, finely chopped OR 1 cup red bell pepper, diced (optional)
Directions:
Preheat oven to 350 degrees. Lightly grease a muffin pan. (I used Earth Balance to grease pan)

In a small bowl, combine the soy milk and apple cider vinegar and set aside. Soy milk will curdle slightly.
In a medium bowl, combine the cornmeal, flour, baking powder and sea salt.
Stir the soy milk mixture, maple syrup and canola oil into the cornmeal mixture, blending well.
Stir in the corn and onion or red bell pepper, if using.
Pour the batter evenly into the lightly greased muffin pan.
Bake for 15 to 20 minutes or until a toothpick or cake tester inserted into the crown of the muffin comes out clean.
Note: For cornbread, pour the batter into a lightly greased square pan and bake at 350 degrees for 30 to 35 minutes or until a toothpick inserted into the center comes out clean.