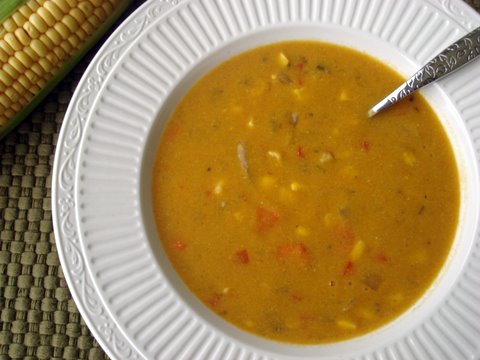 Corn Chowder
I love soup! It's my favorite comfort food. This makes a satisfying fall soup you can enjoy with hearty whole grain bread, a sandwich, or a big green salad.
Equipment:
Chopping board
Large stock pot
Blender
Ingredients:
1 Tbsp olive oil
1 medium-size onion, cut into 1/4-inch dice
1 large red bell pepper, finely chopped (about 1 1/2 cups)
1 cup carrots, peeled and cut into 1/2-inch dice (I just sliced them)
2 jalape√Īo peppers, seeded and thinly sliced (use just one or less if you like less heat)
1 tsp dried rosemary
1 tsp dried thyme
1 tsp sea salt
3 cups vegetable broth or water
3 cups fresh corn kernels (from about 5 ears of corn)
2 medium-size russet potatoes, peeled and sliced into 1/2-inch chunks
Pinch cayenne (optional)
Juice of 1 lime
1/4 cup plain soy milk
1 Tbsp maple syrup
Directions:
In stockpot saut√© the onions, bell peppers, carrots, and jalape√Īos in the olive oil over medium heat until the onions are translucent, about 7 minutes.
Add rosemary, thyme, and sea salt; sauté 1 minute more. Add the broth, corn, potatoes, and cayenne. Cover and bring to a boil, then lower the heat and simmer for 20 minutes, or until the potatoes are tender. Uncover and simmer 10 minutes more to let the liquid reduce a bit.
Puree half the chowder either using a handheld blender or by transferring half the chowder to a blender, pureeing till smooth and adding back to soup.
Add the lime juice to taste, soy milk and maple syrup, and simmer 5 more minutes.
Let sit for at least 10 minutes and serve. Tastes even better the next day!
from "Vegan with a Vengeance" by Isa Chandra Moskowitz