2nd Quarter 2023: Three Cosmic Messages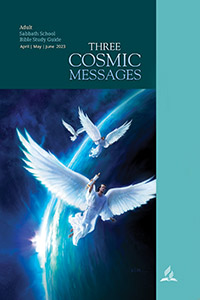 In This Quarter…
Marx, Nietzsche, Darwin—three influential figures whose work has caused humanity irreparable harm, but amid all these errors, God did not leave the world without a witness to His truth, which is why, amid these destructive ideologies, He raised up a movement that would, over time, morph into the Seventh-day Adventist Church and that would proclaim His last-day truth to the world—the three angels' messages. These are messages that, at their core, refute the errors and misconceptions promoted by those three terribly deceived men.
The three angels' messages are, in a sense, the marching orders of the Seventh-day Adventist Church. And at their core, they are the gospel, pure and simple, but the gospel presented in the context of "present truth" (2 Peter 1:12, NKJV)..
A native of Connecticut, U.S.A., Mark Finley, an internationally known evangelist, was a vice president at the General Conference from 2005 to 2010. After retiring from full-time employment, he became an assistant to the president of the General Conference. Pastor Finley and his wife, Ernestine, have three children and five grandchildren.
Get this lesson as PDF here or as web pages in 40 different languages on Advent Tech
Lesson Title
Audio
Video
Notes
1 – Jesus Wins—Satan Loses (Apr. 1) Your browser doesn't support HTML5 audio elements.
Class MP3

Class Webcast
PDF
2 – A Moment of Destiny (Apr. 8)
3 – The Everlasting Gospel (Apr. 15)
4 – Fear God and Give Glory to Him (Apr. 22)
5 – The Good News of the Judgment (Apr. 29)
6 – The Hour of His Judgment (May 6)
7 – Worshiping the Creator (May 13)
8 – The Sabbath and the End (May 20)
9 – A City Called Confusion (May 27)
10 – Satan's Final Deceptions (June 3)
11 – The Seal of God and Mark of the Beast: Part 1 (June 10)
12 – The Seal of God and Mark of the Beast: Part 2 (June 17)

13 – Ablaze With God's Glory (June 24)

---