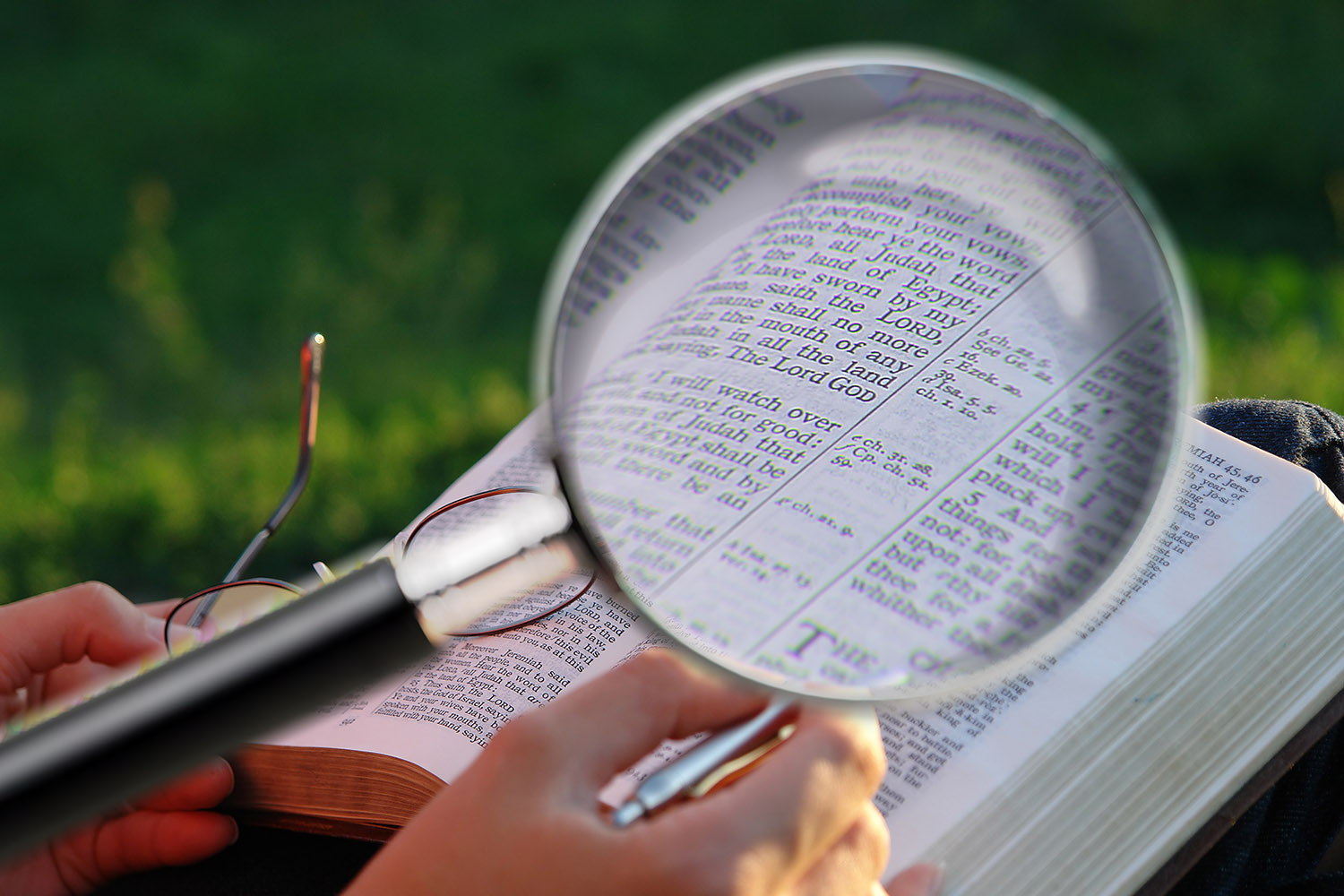 Jak rozróżnić prawdę od fałszu
Znajdujemy się w stanie wojennym, a wojna toczy się o idee, wierzenia, perspektywy, wartości, kulturę – wojna się toczy o nasze umysły. Czy zauważyłeś to? Czy zdajesz sobie sprawę z tego, że Twój umysł jest atakowany przez skłócone frakcje?
Większość z tych grup nie jest zainteresowana Twoją indywidualnością, Twoją zdolnością myślenia i rozumowania – nikt nie zamierza Cię uczyć jak rozróżniać czy ustalać co jest w realu prawdą. Nie! Większość walczących o Twój umysł stara się Ciebie zindoktrynować, wcisnąć Ci propagandę, zaprogramować do popierania ich własnych poglądów, metod i przekonań.
Ale Bóg dał Ci indywidualność – zdolność do myślenia, rozumowania i podejmowania decyzji – Twój własny rozsądek. Bożym zamysłem jest to, abyś ćwiczył zdolności myślenia i rozwijał zdolności rozeznawania, wykorzystując daną Ci przez Boga właściwość myślenia. Właśnie dlatego Biblia uczy, że każdy musi być w pełni przekonany we własnym umyśle (Rzymian 14:5) i że dojrzali to ci, którzy dzięki praktyce rozwinęli umiejętność rozróżniania dobra od zła (Hebrajczyków 5:14).
Come and Reason Ministries nie mówi Ci, co masz myśleć lub w co wierzyć. Nie! Chcemy Ci jedynie pomóc ćwiczyć dane Ci przez Boga zdolności myślenia i rozumowania, byś mógł się stać osobą posiadającą umysł Chrystusa (1 Koryntian 2:16) – osobą, która potrafi skutecznie odróżnić prawdę od fałszu.
Poniżej podajemy Ci kilka narzędzi, których możesz użyć, oraz kilka taktyk, które możesz zastosować, aby rozwinąć swoją zdolność odróżniania faktu od fikcji, dobra od zła, i prawdy od błędu.
Ustal niezawodny standard
Jeśli nie masz niezawodnego standardu do testowania, nie będziesz w stanie odróżnić prawdy od kłamstwa. Agenci Tajnych Służb, którzy są przeszkoleni w zakresie identyfikowania fałszywych monet i banknotów, nie są szkoleni w zakresie znajomości wszystkich możliwych fałszywych pieniędzy, natomiast są szkoleni w rozpoznawaniu prawdziwej waluty, z którą mogą porównać wszystkie sfałszowane. Każdy egzemplarz różniący się od oryginału jest uznawany za podrobiony. Ale jeśli nie znasz standardu (prawdziwego egzemplarza), nie zorientujesz się, kiedy otrzymasz bliską oryginałowi podróbkę.
Standardem Boga jest Jego prawo, które jest Prawem Projektowym Stworzyciela/Kreatora – niezmienne stałe (fizyczne, uniwersalne, elektromagnetyczne, itp.), na których Stwórca zbudował realność i wprawił ją w ruch. Prawo to obejmuje prawa fizyczne wszechświata, takie jak prawa grawitacji, fizyki i zdrowia, ale obejmuje także prawa miłości, wolności, wielbienia i wiele innych.
Większość dzieci nie jest w stanie zrozumieć projektowych zasad dla życia, takich jak drugie prawo termodynamiki – prawo entropii, które stwierdza, że jeśli nie dodasz energii do systemu, to system się rozpada. Dlatego dla dzieci trzeba ustalić regulamin, np., aby myły zęby, dopóki nie osiągną dojrzałości i dobrowolnie zastosują się do tego prawa oraz zaczną czyścić zęby w trosce o własne zdrowie – a zdrowie wymaga, abyśmy żyli w zgodzie z prawami zdrowia, które należą do Bożych praw projektowych.
Większość duchowych dzieci nie rozumie jeszcze Bożych praw projektowych, więc nasz kochający Ojciec niebieski dał nam listę przepisów – Dziesięć Przykazań – by pomóc nam w okresie naszej niedojrzałości. Niestety, niektórzy ludzie nie zdają sobie sprawy z tego, że ta lista jest jedynie krótkim streszczeniem Bożego prawa miłości. Dlatego też Jezus powiedział, że całe prawo jest zawarte w dwóch przykazaniach: kochaj Boga i kochaj bliźniego swego (Ewangelia Mateusza 22:37-39). Miłość jest jednym z Bożych praw dotyczących życia; jest to zasada dawania i koncentrowania się na innych.
Jeśli naprawdę chcemy odróżnić prawdę od kłamstwa, musimy najpierw zrozumieć Boży standard, którym jest prawo miłości, które zostało doskonale objawione i stosowane w życiu Jezusa.
Jeśli zamienimy żywe Boże prawo miłości na listę przepisów; jeśli nauczamy, że grzech jest łamaniem regulaminu, a nie łamaniem Bożego prawa na życie; jeśli nauczamy, że grzech jest problemem prawnym wymagającym nałożenia kary, a nie śmiertelną chorobą wynikającą z braku harmonii z Bożym prawem na życie – wówczas akceptujemy fałszywy standard, który wypacza naszą zdolność do odróżniania prawdy od błędu.
Jeśli zaakceptujemy kłamstwo, że prawo Boże działa jak prawo ludzkie – narzucone przepisy wymagające nałożonej kary za ich przestąpienie – wówczas, gdy widzimy ludzi używających przymusu i siły w celu zadawania innym bólu i cierpienia, możemy dać się zwieść przekonaniu, że takie zachowanie jest w porządku, o ile przyczyna jest słuszna, np. przeciwstawianie się rasizmowi.
Ale kiedy zrozumiemy Prawo Projektowe Kreatora, zdamy sobie również sprawę z tego, że nie możemy wygrać sprawy Bożej za pomocą metod Jego wroga. Nie możemy wykorzenić nienawiści za pomocą nienawiści, zła za pomocą zła, przemocy przemocą, strachu strachem, ciemności ciemnością, kłamstw – większą ilością kłamstw. Nie! Kłamstwo możemy wykorzenić jedynie za pomocą prawdy, strach jedynie za pomocą miłości, ciemność jedynie za pomocą światła, zło jedynie za pomocą prawości, a nienawiść za pomocą przebaczenia.
Ale rozróżnienie dróg Boga od dróg świata, które czasem wydają się tak słuszne i właściwe, wymaga znajomości Bożego prawa projektowego, Jego charakteru i Jego metod działania. Bóg jest standardem i Bóg objawił się doskonale w Jezusie. Zatem Jezus jest standardem praworządności – standardem życia, do którego musimy się upodobnić.
Pierwszą zasadą w uczeniu się rozpoznawania i rozróżniania jest studiowanie Bożych praw projektowych, ich funkcjonowania, sposobu w jaki odnoszą się do życia, a co najważniejsze, zrozumienia, w jaki sposób wszystkie znalazły zastosowanie w życiu Jezusa. Następnie, zgodnie z Bożym prawem projektowym jako standardem, możesz zacząć porównywać idee, działania i ruchy w celu ustalenia, czy są one zgodne z Bogiem oraz prowadzone i wzmacniane przez Ducha Bożego, czy też są niczym innym niż kuszące falsyfikaty.
Patrz poza słowa – na działania
Szatan jest ojcem kłamstwa – prowadzi on wojnę o idee, koncepcje i wierzenia; dlatego ważne jest, by posiadać umiejętność odróżniania kłamstwa od prawdy. Ale czasami prawda nie jest tym, co chcemy usłyszeć; czasami prawda powoduje dyskomfort; czasami kłamstwo jest bardziej pociągające niż prawda; i dlatego czasami ludzie przywiązują się do ujmujących słów, kuszących roszczeń, obiecujących oświadczeń, zwodniczych deklaracji, zamiast patrzeć poza fałsz, by ujrzeć prawdę objawioną w czynach. Wielu nie zdaje sobie sprawy z tego, że czyny często ujawniają prawdę o wiele lepiej niż wygłaszane słowa lub obietnice.
Oszust wyraża słowami swoją wiarygodność, swoje zainteresowanie udzieleniem Ci pomocy; jednak jego działalność polegająca na okradaniu Cię ujawnia całą prawdę.
Człowiek, który bije żonę, mówiąc jej jednocześnie, że robi to jedynie z miłości, wyjawia, że jego deklaracje miłości są kłamstwem. Ale niestety, zbyt wiele maltretowanych kobiet odmawia spojrzenia poza słowa i zaakceptowania prawdy ujawnionej przez sprawcę, toteż pozostają w toksycznych związkach.
W dzisiejszym świecie wielu ludzi jest oszukiwanych, ponieważ skupiają się jedynie na czyichś słowach. Wyrażane obietnice wzbudzają silne uczucia, które rezonują z pragnieniem serca, a ludzie są oszukiwani, pokładają wiarę w słowach, i zostają wciągnięci do sprawy, nie badając nawet metod, zasad, działań i czynów, i nie porównując ich ani z rzeczywistością, ani z Bożymi prawami projektowymi, by ustalić, gdzie leży prawda.
Czy podjęte działania promują wolność, czy też ją ograniczają? Prawo wolności jest jednym z Bożych praw projektowych, a praworządność usiłuje promować wolność i autonomię wszystkich ludzi. Miłość może wzrastać jedynie w atmosferze wolności; jedynie na wolności jednostki rozwijają się i maksymalizują swoje umiejętności; prawdziwego zdrowia duchowego można doświadczyć jedynie na wolności.
Drugą zasadą w nauce rozpoznawania i rozróżniania jest badanie tego, co dzieje się poza wypowiadanymi słowami. Czy ludzie mają wolność mowy, czy też czyha na nich ktoś, kto stara się uciszyć niepożądane głosy; kto chce wyciszyć każdego z odmiennymi poglądami, kto odwołuje mówców lub kasuje funkcje/imprezy/wydarzenia niezgodne z ich zapatrywaniami; kto dąży do wyrzucania ludzi z pracy za dzielenie się swoimi poglądami, nawet jeśli te opinie są dzielone w odpowiedzialny sposób i bez złośliwości lub uwłaczających uwag?
Polegaj na prawdzie – nie na emocjach
Wielu jest zwiedzonych, ponieważ silnie reagują emocjonalnie na wydarzenia, okoliczności, mówców, ruch czy ideologię. Budzą się w nich namiętności i poddają się pod kierownictwo owych emocji. Taka metoda jest niemal zawsze destrukcyjna.
Co więcej, działania pod wpływem silnych uczuć są zawsze wzmożone w środowisku grupowym, gdzie emocje są podżegane przez innych, którzy odczuwają ten sam gniew, urazę lub poczucie własnej racji. Silne emocje zaburzają zdrowe myślenie. Kiedy jesteśmy nadmiernie podekscytowani, obszary myślowe mózgu ulegają wykolejeniu, a nasza zdolność odróżniania dobra od zła jest osłabiona. Tego rodzaju silne emocje są częstą przyczyną przemocy w rodzinie i są główną mocą napędzającą tłumy.
Istnieje wielka różnica pomiędzy rozjuszonym tłumem a pokojowym protestem. Pokojowy protest jest zarządzany rozsądkiem; prezentuje logiczny, oparty na dowodach cel; usiłuje przekonać, nakłonić, zmienić obecną kulturę, przekonania, idee lub metody w racjonalny sposób. Wielki reformator Marcin Luter zastosował tę metodę, kiedy zawiesił swoje 95 tez na drzwiach kościoła, a kilka wieków później, jego imiennik Marcin Luter King Jr. stosował tę samą metodę w swoich przekonujących książkach i przemówieniach.
Stoi to w rażącym kontraście z niepohamowanym tłumem, którego działalność nie jest zarządzana umysłem i nie spoczywa pod kontrolą rozsądku. Nawet jeśli mają słuszny cel, to pozbawiając się rozumu stają się motłochem – jak opisuje Biblia: "jako bydło bezrozumne, które za przyrodzeniem idzie" (2 Piotra 2:12 BG) – i ostatecznie wyrządzają krzywdę innym i rozsiewają więcej nasion niezgody.
Trzecią zasadą w nauce rozpoznawania i rozróżniania jest to, by trzymać emocje na wodzy i nie pozwolić zdetronizować się rozsądkowi, nawet gdy dzieje się coś skandalicznego i odczuwasz silne i słuszne oburzenie. Bądź zapalczywy, ale również rozumny; z modlitwą proś Boga o wskazanie Ci, jak możesz postąpić słusznie i godziwie oraz wpłynąć pozytywnie na serca i umysły przy użyciu jedynie Jego metod miłości, prawdy i wolności. I mogę Ci obiecać, że jeśli będziesz prowadzony przez Ducha Świętego – Ducha prawdy i miłości – Twoje czyny będą zawsze rozsądne, zawsze oparte na prawdzie, zawsze będą wyrazem miłości wobec innych. Miłość zmierzy się z kłamstwem, nienawiścią, przemocą i złem, ale miłość nigdy nie posługuje się kłamstwem, nienawiścią, przemocą i złem. Rozumiejąc Boże prawa projektowe, można odróżnić ruchy kierowane przez Boga od falsyfikatów kierowanych przez wroga.
Zastanów się, przestudiuj i przyswój sobie Boże prawa dla życia; ćwicz swoje zdolności dane Ci przez Boga i używaj rozsądku do porównania poglądów, przekonań, ruchów i przyczyn ze standardem Bożym, i staraj się dojść do swoich własnych wniosków. Znajdujemy się w stanie wojennym i pragnę, abyś odniósł zwycięstwo w swoim sercu i umyśle – ale zwycięstwo jest możliwe jedynie dzięki przyswojeniu sobie i posługiwaniu się bronią Bożą: prawdą, miłością oraz wolnością.
---
Dr Timothy R. Jennings jest lekarzem psychiatrą, psychofarmakologiem, międzynarodowym mówcą, członkiem specjalnym American Psychiatric Association i członkiem Southern Psychiatric Association. Jest prezesem i założycielem Come and Reason Ministries, a także prezesem Southern and Tennessee Psychiatric Associations. Dr Jennings jest autorem wielu książek, w tym: "The God-Shaped Brain", "The God-Shaped Heart", "The Aging Brain", i "Czy to naprawdę może być tak proste?".