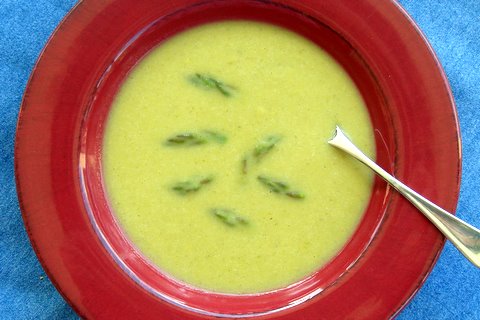 Cream Of Asparagus Soup
Pureeing an aromatic rice adds a delicate flavor and creates a creamy, non-dairy base for this soup. May be served without blending for a heartier texture. I found it delicious either way!
Equipment:
Cutting Board
Large Soup Pot
Blender
Ingredients:
2 pounds fresh asparagus
2 Tbsp olive oil
2 medium onions, chopped
2/3 cup uncooked, basmati or jasmine rice
2 low sodium vegetable bouillon cubes
2 sprigs fresh thyme or 1 tsp ground thyme
8 cups water
Directions:
Trim ends from asparagus and cut into 1/2 inch pieces, setting aside tips. (No need to set aside tips if you're not going to blend the soup.)
Saute onions in oil in a large pot over medium heat for about 5 minutes or until soft.
Stir in asparagus pieces, rice, bouillon cubes, thyme and 8 cups water. Reduce heat, cover, and cook for 30-35 minutes, or until rice is very tender.
Remove thyme sprigs. Transfer soup to blender in batches and puree until smooth.
Return soup to pot and add reserved asparagus tips. Simmer 1-2 minutes, then ladle into soup bowls and serve immediately. Add sea salt to taste, if desired.