3rd Quarter 2019: The Least of These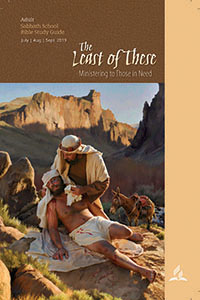 In This Quarter…
According to one count, Scripture contains 2,103 verses expressing God's special concern for the poor and oppressed. Compared to many other aspects of faith, doctrine, and Christian living in general, the weight of references about ministering to those in need is overwhelming. We must get serious about working to relieve the pain and suffering that exist around us. This doesn't take away from our work of spreading the gospel; on the contrary, it can become a powerful way of doing it.
This quarter, then, we are going to see what the Word of God says (and it says a lot) about our duty to minister to the needs of those around us.
The Author: Jonathan Duffy has served as president of ADRA International since 2012. Before joining ADRA Australia in 2008, Duffy served as director of Adventist Health for the church's South Pacific Division, where he had extensive experience in health promotion and community health development.
Get this lesson as PDF here or as web pages in 40 different languages on Advent Tech
3rd Quarter 2019: The Least of These podcast >>
Lesson Title
Webcast Video
Audio
Notes
1 – God Created (July 6)

Your browser doesn't support HTML5 audio elements.

YouTube
MP3
PDF
2 – Blueprint for a Better World (July 13)

Your browser doesn't support HTML5 audio elements.

YouTube
MP3
PDF
3 – Sabbath: A Day of Freedom (July 20)

Your browser doesn't support HTML5 audio elements.

YouTube
MP3
PDF
4 – Mercy and Justice in Psalms and Proverbs (July 27)

Your browser doesn't support HTML5 audio elements.

YouTube
MP3
PDF
5 – The Cry of the Prophets (Aug. 3)

Your browser doesn't support HTML5 audio elements.

YouTube
MP3
PDF
6 – Worship the Creator (Aug. 10)

Your browser doesn't support HTML5 audio elements.

YouTube
MP3
PDF
7 – Jesus and Those in Need (Aug. 17)

Your browser doesn't support HTML5 audio elements.

YouTube
MP3
PDF
8 – "The Least of These" (Aug. 24)

Your browser doesn't support HTML5 audio elements.

YouTube
MP3
PDF
9 – Ministry in the New Testament Church (Aug. 31)

Your browser doesn't support HTML5 audio elements.

YouTube
MP3
PDF
10 – Living the Gospel (Sep. 7)

Your browser doesn't support HTML5 audio elements.

YouTube
MP3
PDF
11 – Living the Advent Hope (Sep. 14)

Your browser doesn't support HTML5 audio elements.

YouTube
MP3
PDF
12 – To Love Mercy (Sep. 21)

Your browser doesn't support HTML5 audio elements.

YouTube
MP3
PDF
13 – A Community of Servants (Sep. 28)

Your browser doesn't support HTML5 audio elements.

YouTube
MP3
PDF