2nd Quarter 2019: Family Seasons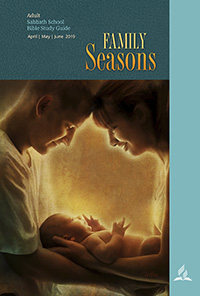 In This Quarter…
we'll be talking about the cycles of life, at least for us now, in this fallen world in the one place most of us cycle through them, and that is within the framework of family.
Humans were created, in Eden, in the context of family; first a husband and wife, and then children who had more children, and thus we have the history of our world even to the present day. Indeed, many of the earliest Bible stories—from Adam and Eve, the patriarchs, the Davidic dynasty—all unfolded within the context of family and family relationships. All through the Bible, in one way or another, families help form the framework of events that unfold.
Despite all the forces working against the family, both today and in the past (for instance, the practice of polygamy in biblical times hardly added to family stability), and despite attempts to redefine exactly what a family is, the concept of a family endures. And it should. It's where we get started, and it is often the greatest force for good or evil in shaping our lives and how we respond to challenges we face as we cycle through the stages of life.
This quarter's lessons point to principles, based on Scripture, that (it's our hope and prayer) can help make for stronger families at every stage of life.
Claudio and Pamela Consuegra serve as the Family Ministries directors for the North American Division. They have served the church in various capacities for more than thirty years.
Get this lesson as PDF here or as web pages in 40 different languages on Advent Tech
2nd Quarter 2019: Family Seasons podcast >>
Lesson Title
Webcast Video
Audio
Notes
1 – The Rhythms of Life (Apr. 6)

Your browser doesn't support HTML5 audio elements.

YouTube
MP3
PDF
2 – The Choices We Make (Apr. 13)

Your browser doesn't support HTML5 audio elements.

YouTube
MP3
PDF
3 – Preparing for Change (Apr. 20)

Your browser doesn't support HTML5 audio elements.

YouTube
MP3
PDF
4 – When Alone (Apr. 27)

Your browser doesn't support HTML5 audio elements.

YouTube
MP3
PDF
5 – Wise Words for Families (May 4)

Your browser doesn't support HTML5 audio elements.

YouTube
MP3
PDF
6 – The Royal Love Song (May 11)

Your browser doesn't support HTML5 audio elements.

YouTube
MP3
PDF
7 – Keys to Family Unity (May 18)

Your browser doesn't support HTML5 audio elements.

YouTube
MP3
PDF
8 – Season of Parenting (May 25)

Your browser doesn't support HTML5 audio elements.

YouTube
MP3
PDF
9 – Times of Loss (Jun. 1)

Your browser doesn't support HTML5 audio elements.

YouTube
MP3
PDF
10 – Little Times of Trouble (Jun. 8)

Your browser doesn't support HTML5 audio elements.

YouTube
MP3
PDF
11 – Families of Faith (Jun. 15)

Your browser doesn't support HTML5 audio elements.

YouTube
MP3
PDF
12 – What Have They Seen in Your House? (Jun. 22)

Your browser doesn't support HTML5 audio elements.

YouTube
MP3
PDF
13 – Turning Hearts in the End Time (Jun. 29)

Your browser doesn't support HTML5 audio elements.

YouTube
MP3
PDF