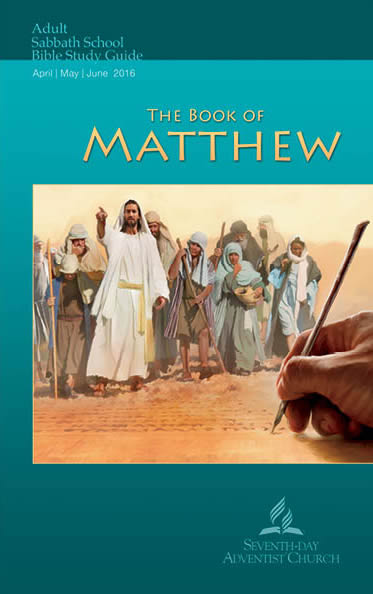 In This Quarter...
And an inspired version of Jesus' story is given in the Gospel of Matthew, our topic for this quarter. Matthew, a Jewish believer in Jesus and one of the original disciples of Jesus, recounts the story of Jesus from his own Spirit-inspired perspective. Though in common with Mark, Luke, and John, Matthew's theme is the incarnation, life, death, resurrection, and ascension of Jesus. Matthew focuses strongly on the fact that Jesus is the Promised Messiah. He wanted his readers to know that the redemption of Israel was to be found in Jesus, the One of whom the prophets spoke and to whom all the Old Testament types pointed.
Although his audience was primarily Jewish, his message of hope and Redemption speaks to us as well; a people who, like Rick Hoyt, need Someone to do for us what we never can do for ourselves.
And Matthew tells the story of Him, Jesus, doing just that.


Obtain and read PDF lessons here or as HTML web pages on SSnet.org
2nd Quarter 2016: The Book of Matthew podcast >>
Lesson Title
Webcast Video
Audio
Notes
1 - Son of David (Apr. 2)
Your browser doesn't support audio.
Please download the file:
YouTube
MP3
PDF
2 - The Ministry Begins (Apr. 9)
Your browser doesn't support audio.
Please download the file:
YouTube
MP3
PDF
3 - The Sermon on the Mount (Apr. 16)
Your browser doesn't support audio.
Please download the file:
YouTube
MP3
PDF
4 - "Get Up and Walk!" Faith and Healing (Apr. 23)
Your browser doesn't support audio.
Please download the file:
YouTube
MP3
PDF
5 - The Seen and the Unseen War (Apr. 30)
Your browser doesn't support audio.
Please download the file:
YouTube
MP3
PDF
6 - Resting in Christ (May 7)
Your browser doesn't support audio.
Please download the file:
YouTube
MP3
PDF
7 - Lord of Jews and Gentiles (May 14)
Your browser doesn't support audio.
Please download the file:
YouTube
MP3
PDF
8 - Peter and the Rock (May 21)
Your browser doesn't support audio.
Please download the file:
YouTube
MP3
PDF
9 - Idols of the Soul (and Other Lessons From Jesus) (May 28)
Your browser doesn't support audio.
Please download the file:
YouTube
MP3
PDF
10 - Jesus in Jerusalem (Jun. 4)
Your browser doesn't support audio.
Please download the file:
YouTube
MP3
PDF
11 - Last Day Events (Jun. 11)
Your browser doesn't support audio.
Please download the file:
YouTube
MP3
PDF
12 - Jesus' Last Days (Jun. 18)
Your browser doesn't support audio.
Please download the file:
YouTube
MP3
PDF
13 - Crucified and Risen (Jun. 25)
Your browser doesn't support audio.
Please download the file:
YouTube
MP3
PDF