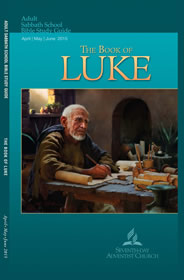 In This Quarter...
Luke's Gospel is the longest in the New Testament.
Some miracles appear only in Luke, such as the raising of the widow of Nain's son (Luke 7:11–18) and the healing of Malchus (Luke 22:50, 51). (For other miracles, see Luke 5:4–11, 13:11–17, 14:1–6, 17:11–19.) Many parables are peculiar to Luke, including several famous ones: the good Samaritan (Luke 10:30–37), the rich foolish man (Luke 12:16–21), the prodigal son (Luke 15:11–32); the rich man and Lazarus (Luke 16:19–31), and the Pharisee and the publican (Luke 18:10–14). The Zacchaeus story (Luke 19:1–10) is also Luke's unique contribution.
Under the guidance of the Holy Spirit, Luke claims to have surveyed the historical materials, interviewed the eyewitnesses (Luke 1:2), and then with "perfect understanding of all things" wrote "an orderly account" that readers "may know the certainty" of Jesus and His good news (vss. 3, 4, NKJV). When asked if he would recommend a good biography of Jesus, the great theologian James Denney replied, "Have you tried the one that Luke wrote?" Good idea. Let's try it together, as a world church, this quarter.
Obtain and read PDF lessons here or as HTML web pages on SSnet.org
2nd Quarter 2015: The Book of Luke podcast >>
Lesson Title
Webcast Video
Audio
Notes
1 - The Coming of Jesus (Apr. 4)
Your browser doesn't support audio.
Please download the file:
YouTube
MP3
PDF
2 - Baptism and the Temptations (Apr. 11)
Your browser doesn't support audio.
Please download the file:
YouTube
MP3
PDF
3 - Who Is Jesus Christ? (Apr. 18)
Your browser doesn't support audio.
Please download the file:
YouTube
MP3
PDF
4 - The Call to Discipleship (Apr. 24)
Your browser doesn't support audio.
Please download the file:
YouTube
MP3
PDF
5 - Christ as the Lord of the Sabbath (May 2)
Your browser doesn't support audio.
Please download the file:
YouTube
MP3
PDF
6 - Women in the Ministry of Jesus (May 9)
Your browser doesn't support audio.
Please download the file:
YouTube
MP3
PDF
7 - Jesus, the Holy Spirit, and Prayer (May 16)
Your browser doesn't support audio.
Please download the file:
YouTube
MP3
PDF
8 - The Mission of Jesus (May 23)
Your browser doesn't support audio.
Please download the file:
YouTube
MP3
PDF
9 - Jesus, the Master Teacher (May 30)
Your browser doesn't support audio.
Please download the file:
YouTube
MP3
PDF
10 - Following Jesus in Everyday Life (June 6)
Your browser doesn't support audio.
Please download the file:
YouTube
MP3
PDF
11 - The Kingdom of God (June 13)
Your browser doesn't support audio.
Please download the file:
YouTube
MP3
PDF
12 - Jesus in Jerusalem (June 20)
Your browser doesn't support audio.
Please download the file:
YouTube
MP3
PDF
13 - Crucified and Risen (June 27)
Your browser doesn't support audio.
Please download the file:
YouTube
MP3
PDF