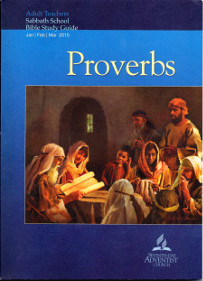 In This Quarter...
While many books of the Bible are filled with deep spiritual and theological truths, the book of Proverbs is filled with practical and down-to-earth advice for daily living.
Brief, well-balanced, poetic, salty, and often humorous, the proverbs are universal, are easy to memorize, and make their points well, sometimes even more efficiently than do eloquent speeches and rigorous argumentation.
Yet the book of Proverbs is the Word of God, because it was under divine inspiration that the authors pulled their materials together. Although God is rarely explicitly mentioned in the texts, He is always present: wherever we are in the marketplace, or as we speak, eat, drink, work, buy, sell, socialize, and love, the Lord is there. The God of Proverbs is not just the God of a religious person, whether a priest or a worshiper in the pew. Godliness is here put into working clothes.
Proverbs is deep and rich, and it deals with many topics. Given the limitations of space, we've had to pick and choose which material we could cover. We can't cover it all, but all that we have is, indeed, worthy of our prayerful study.
Obtain and read PDF lessons here or as HTML web pages on SSnet.org
1st Quarter 2015: Proverbs podcast >>
Lesson Title
Webcast Video
Audio
Notes
1 - The Call of Wisdom (jan 3)
Your browser doesn't support audio.
Please download the file:
YouTube
MP3
PDF
2 - From Ears to Feet (jan 10)
Your browser doesn't support audio.
Please download the file:
YouTube
MP3
PDF
3 - A Matter of Life and Death (jan 17)
Your browser doesn't support audio.
Please download the file:
YouTube
MP3
PDF
4 - Divine Wisdom (jan 24)
Your browser doesn't support audio.
Please download the file:
n/a
MP3
PDF
5 - The Blessings of the Righteous (jan 31)
Your browser doesn't support audio.
Please download the file:
YouTube
MP3
PDF
6 - What You Get Is Not What You See (feb 7)
Your browser doesn't support audio.
Please download the file:
YouTube
MP3
PDF
7 - Dealing with Fights (feb 14)
Your browser doesn't support audio.
Please download the file:
YouTube
MP3
PDF
8 - Words of Wisdom (feb 21)
Your browser doesn't support audio.
Please download the file:
YouTube
MP3
PDF
9 - Words of Truth (feb 28)
Your browser doesn't support audio.
Please download the file:
YouTube
MP3
PDF
10 - Behind the Mask (mar 7)
Your browser doesn't support audio.
Please download the file:
YouTube
MP3
PDF
11 - Living by Faith (mar 14)
Your browser doesn't support audio.
Please download the file:
YouTube
MP3
PDF
12 - The Humility of the Wise (mar 21)
Your browser doesn't support audio.
Please download the file:
YouTube
MP3
PDF
13 - Women and Wine (mar 28)
Your browser doesn't support audio.
Please download the file:
n/a
MP3
PDF