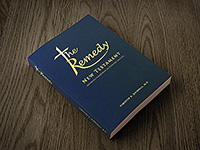 The long awaited 2nd Edition of Dr. Timothy R. Jennings', The Remedy New Testament Expanded Paraphrase In Everyday English, with words of Christ in red, came off the presses on Friday, May 12, 2017 (1 week short of exactly 1 year from the free 1st edition) and is now available from Amazon for $15.99 USD. Click Here to get it!
What's new about this 2nd Edition? How about over ONE THOUSAND edits, a scuff resistant cover, and a better hue for Christ's words in red.
But, why isn't it free anymore?
The 1st Edition was our "test the waters" offering to see how people would like it. Some were concerned that The Remedy NT would be seen as our Ministry writing our own Bible. Therefore, we printed 10,000 and gave them away to allow readers to experience and get feedback. Needless to say, the feedback has been overwhelmingly positive from all quarters. With that said, the free "preview" can't last forever, and, given the fact some people have already begun selling the free one we gave away at various outlets, we felt it best to make The Remedy NT as reasonably priced as possible. We hope you enjoy it.