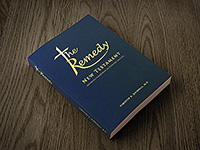 The long awaited 2nd Edition of Dr. Timothy R. Jennings', The Remedy New Testament Expanded Paraphrase In Everyday English, with words of Christ in red, came off the presses on Friday, May 12, 2017 (1 week short of exactly 1 year from the free 1st edition)
What's new about this 2nd Edition? How about over ONE THOUSAND edits, a scuff resistant cover, and a better hue for Christ's words in red.
Click Here to get it from Amazon.com (USA only at this time).
Click Here to read the First Edition on-line