Bible Study Class: 3rd Quarter 2012 - 1 & 2 Thessalonians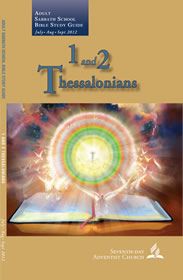 In This Quarter...
... through Paul's letters to the Thessalonians, we'll get a glimpse into the life of an early Christian church—an urban church—really, and see some of the struggles and challenges that it faced, including the difficulties that arose from the fact that Christ had not yet returned! Fascinating, too, is that however different their circumstances from our own, so often the principles reflected in Paul's words to the Thessalonians deal with the issues and challenges that we, too, confront as we await—not some mysterious Godot—but the Lord Jesus, whose death on the cross at the first coming guarantees His return in glory at the Second.
Jon Paulien is dean of the School of Religion at Loma Linda University in Loma Linda, California.
Obtain and read PDF lessons here or as HTML web pages on SSnet.org